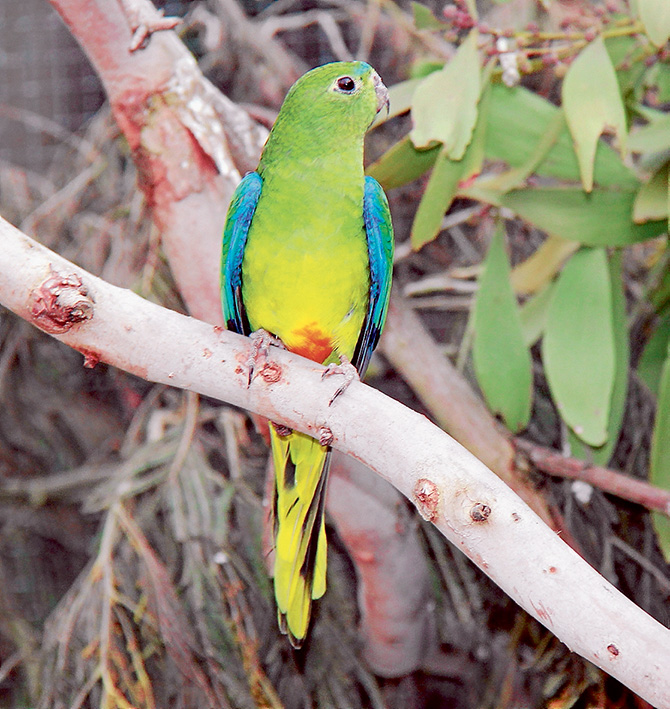 THE orange-bellied parrot wild population has been hit by a disease that can kill young birds or adults with weak immune systems.
Two-thirds of 30 birds born in the wild last summer in Tasmania have been diagnosed with common beak and feather disease, also known as Psittacine Beak and Feather Disease.
This is the parrot that once graced the saltmarsh shores of Western Port and became famous as a political football when its endangered status was blamed for delaying a wind farm in Gippsland in 2006 and the proposed marina expansion at Yaringa boat harbour near Somerville in 2012.
The OBP is of only three parrot species worldwide that migrates. They spend their winters in Victoria and South Australia before flying to Melaleuca in Tasmania's remote southwest wilderness to breed.
The disease, called bird AIDS by some reseachers, causes beaks and feathers to become malformed. Birds end up with shortened, stubby feathers so can't fly, and malformed beaks so they can't eat properly.
ABC radio reported last week: "A deadly disease is infecting the nestling population of one of the world's most critically endangered birds – the orange-bellied parrot. Nineteen of the estimated 30 birds that were born in Tasmania last summer tested have positive to beak and feather disease."
It's thought that there are fewer than 50 birds in the wild but a captive breeding program started about 30 years ago means there are about 320 birds in special facilities at Healesville Sanctuary, Adelaide Zoo, a state government centre near Hobart, Halls Gap, a private centre in the ACT, and Moonlit Sanctuary in Pearcedale, where the birds are kept just 500 metres from saltmarsh on the edge of Western Port where they used to live in the wild. The first Moonlit birds were released into the wild in Tasmania last year.
The parrot has not been seen in the wild at Western Port since 1987. This prompted now environment minister Greg Hunt to exclaim in early 2012 when asked about the parrot delaying the Yaringa marina expansion: "There is no parrot, there hasn't been a parrot for five years, for 10 years, for 15, for 20, or even for a quarter of a century.
"It is ludicrous that a major project, which will create hundreds of local jobs, has been put on hold because one day an orange-bellied parrot may decide to fly over the area, even though they have not been seen in this location for a quarter of a century."
Mr Hunt's outburst reminded many people of Monty Python's famous and hilarious "Dead Parrot Sketch".
This is where John Cleese as an unhappy customer and Michael Palin as a pet shop owner argue over the state of a Norwegian Blue parrot that Cleese has just bought.
Cleese is enraged when Palin says the parrot is just resting.
Cleese: 'E's not pinin'! 'E's passed on! This parrot is no more! He has ceased to be! 'E's expired and gone to meet 'is maker! 'E's a stiff! Bereft of life, 'e rests in peace! If you hadn't nailed 'im to the perch 'e'd be pushing up the daisies! 'Is metabolic processes are now 'istory! 'E's off the twig! 'E's kicked the bucket, 'e's shuffled off 'is mortal coil, run down the curtain and joined the bleedin' choir invisible!! THIS IS AN EX-PARROT!
Environment minister Hunt has ordered his Threatened Species Commissioner Gregory Andrews to prepare an "urgent strategic response" to deal with the disease.
Mr Andrews reportedly said the wild population was infected despite the best efforts of the Tasmanian government, wildlife managers and volunteer groups.
"It's a risk for the parrot because of [its] very low numbers, but also because the parrot is dependent on human management, feed tables, captive breeding programs, and that puts it at greater risk," he said.
Mr Andrews said the captive breeding population had not been affected by the outbreak.
He told the ABC that "the bird has had very low reproductive success for many years, and beak and feather disease could be one of the causes of that low reproductive success. So there is actually … a silver lining in every cloud, and with this advice, we now have greater clarity on why the birds' reproduction rate has been so low".
"We have some of the best scientists in Australia, and as part of the urgent strategic response that minister Hunt's asked me to initiate, I'll be talking to the National Environmental Science Program leaders, which is a $30 million investment program for threatened species' science. I'll also be talking to BirdLife Australia, the department, my advisers, and the Tasmanian government so that we can design the best approach to tackling this problem."
Michael Johnson of Moonlit Sanctuary, which has had an OBP breeding program for two seasons, said birds with strong immune systems were able to shrug off the disease. "Numbers are better than a few years ago when it was thought that only 36 wild birds remained," he said. "Two years ago there were 50 and last year 70."
He said the parrots' winter range was between Inverloch and the Coorong in South Australia.
Moonlit has five aviaries for its OBPs, which cost about $12,000 and were paid for by a philanthropic grant. It is hoping to build 10 more and eventually have 30.
"We had six chicks fledge [fly] in season 2014-15 with one of our females producing five of the six chicks," he said.
The sanctuary on Tyabb-Tooradin Rd looks after six rare species. It is becoming increasingly popular with overseas visitors to Melbourne.
The Yaringa marina project is before an independent planning panel, which is holding a hearing in Hastings this month. The first four days were last week at Hastings Community Hub (9-12 June) with three days on 22-24 June. The panel will prepare a report for the state planning minister.