PENINSULA LEAGUE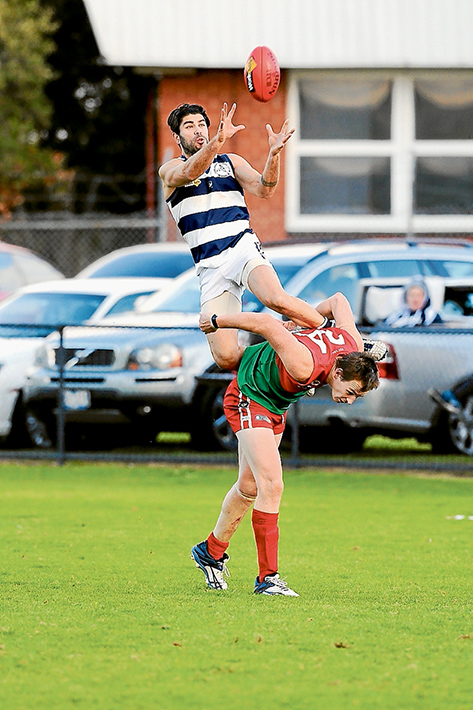 FORMER West Coast Eagle, North Melbourne and Richmond forward Aaron Edwards played one of the most impressive games in Peninsula League memory on Saturday as Pines ended Chelsea's season.
Edwards had close to 40 possessions, took more than 15 marks, booted seven goals and was clearly head and shoulders above any other player on the ground in the Pythons' 18.9 (117) to 8.17 (65) win over Chelsea.
Edwards, who was the last player to kick 100 goals in the VFL at Frankston Dolphins before he was drafted to the Eagles, had as many possessions in the back half of the ground as he did in the offensive half – still, he finished with seven majors, four of which came in the last quarter.
His fitness levels, aerial skills, willingness to work and appetite for the contest were clearly evident.
Aaron was that good at Eric Bell Reserve that he made it look like he was an 18-year-old playing under 11 footy. He was that dominant.
He did have plenty of support from his team mates however, especially young ruckman Taylor Strachan, who was superb in the middle and around the ground.
His significant performance allowed Guy and Beau Hendry to maintain Pines' structures of staying at centre half back and centre half forward.
Luke Holdcroft was also sensational for Pines, shutting down the dangerous Todd Gardiner.
Gardiner has been in superb form for the Gulls this season but was lucky to get half a dozen touches on Saturday, such was the blanket role that Holdcroft played. Holdcroft did the same job on Mt Eliza's Ben Landry the week before.
Callum Gray was a youngster released from Frankston Dolphins and he showed a clean pair of heels while Chris Guganovic booted a goal in his 175th match, a milestone which gives him life membership of the club.
Through the middle of the ground at the contests, Billy Humphrey was in and under and has a body that can take the hits, while Brendan Cowell is in the same boat.
Hudson Thomas was Chelsea's best player, despite not being named in their best players. He was the only Gull to work hard over four quarters.
Brad Clark was extremely good too, while young Matt Silva and Jason Clark, along with Jackson Arthur in the ruck were clearly their best four, along with Thomas.
Chelsea trailed by six points at half time after ending a string of behinds (eight points in a row) with three goals in four minutes to end the quarter.
However, the Gulls didn't come out to play in the second half. Pines improved their skill execution and snagged 12 goals to four in the second half.
Bonbeach kept its finals hopes well and truly alive, leading for most of the afternoon to beat an injury-riddled Mornington.
After copping an embarrassing defeat at the hands of Frankston YCW last week, the Sharks got their noses in front in the match against the Dogs and went on to record a 12.15 (87) to 11.11 (77) victory.
Mornington coach Chris Holcombe said on The RPP Footy Show before the match that he was missing eight of his best 21 players from the side.
However, the Dogs were still able to beat Langwarrin last week with a similar list.
Jackson Casey was at his best for the Sharks with three goals while Dylan Jones had the better of Michael Gay in the ruck.
Adam Symes played forward again for the Dogs and finished with six majors.
Langwarrin beat Karingal 14.14 (98) to 3.3 (21) as expected.
The Bulls had numbers behind the footy from the outset and the Kangas were forced to navigate their way through.
Shane Paterson and Scott Sienkiewicz (three goals) were outstanding for the Kangas while Blake Harkness continues his run of dominant perform.
Grant Goodall and Aaron Lees were the best of the Bulls, as was other leaders Luke Van Raay and Grant Paxton.
Frankston YCW made it two big wins in successive weeks with an 18.19 (127) to 4.6 (30) win against Seaford.
Dromana recruits Paul Minchington and Anthony Bruhn booted five and four goals respectively while Kyle Hutchison and Scott Macleod dominated.
Aaron Walton booted two for the Tigers and Matt Herbert and Nick Braund collected the top votes.
Mt Eliza bounced back from its loss to Pines last week to lead all afternoon to beat Edithvale-Aspendale.
The Redlegs led for the majority of the afternoon, kicking six goals to three after the main change to win 12.21 (93) to 7.9 (51).
Scott Lockwood booted four majors and Justin Van Unen three while Karl Lombardozzi and Ben Landry were dominant.
Mark Mullins and Brad Tagg were the best of the Eagles.