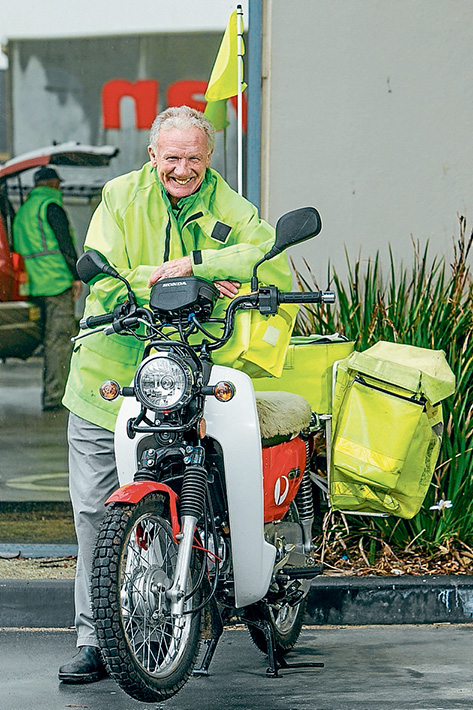 MORNINGTON postie Ray Garlick took his dad's advice and applied for a job with the old PMG way back in 1965. And he's still doing it, and loving it, 50 years later.
Mr Garlick attended Mornington Primary School in Vale St and is a former pupil of famed historian and teacher Leslie Moorhead.  He finished school after Form 3 when he was 15 years six months.
"Dad was a telephone linesman and he suggested I try becoming a postie," Mr Garlick said last week. "I applied and had to sit an exam of Grade 6 arithmetic and spelling to get the job."
Starting work in 1965, he said he "felt very comfortable and liked it from the start", becoming a telegram boy at the delivery centre in Bruce St, Mornington, and later a postie. After stints at Kooweerup, Trafalgar and Rosebud he returned to Mornington and now lives in Oakland St.
A motor scooter has replaced the pushbike but the days are much the same – sorting and loading mail and then riding out into the fresh air, rain, hail or shine.
The job has not changed much, although parcels make up a bigger proportion of the load in these days of online shopping.
How many kilometres would he have ridden? "Probably millions," Mr Garlick said. "And I have made lots of friends and have some wonderful customers."
One positive is that there are fewer problems with dogs. "You hardly ever see them anymore.  They are all locked away now," he said.
Colleague Sean O'Keefe – a relative newcomer after only 25 years' service – said he was "privileged to work with such a gentleman" as Ray.
"Most of this time has been served in Mornington and he is an oracle of knowledge on all things Mornington," he said.
"He was educated here, lives here and, of course, works here. He is quite a shy man, but much loved by all those who come into contact with him and also for those of us who are lucky to work with him.
"To be with the same employer for 50 years is a great effort and I think he is deserving of some recognition in the community for his efforts."
While describing his career as having been "one long journey," Mr Garlick says he has no plans to retire when he achieves the milestone on 6 July: "Not while I'm enjoying it so much."