NEPEAN LEAGUE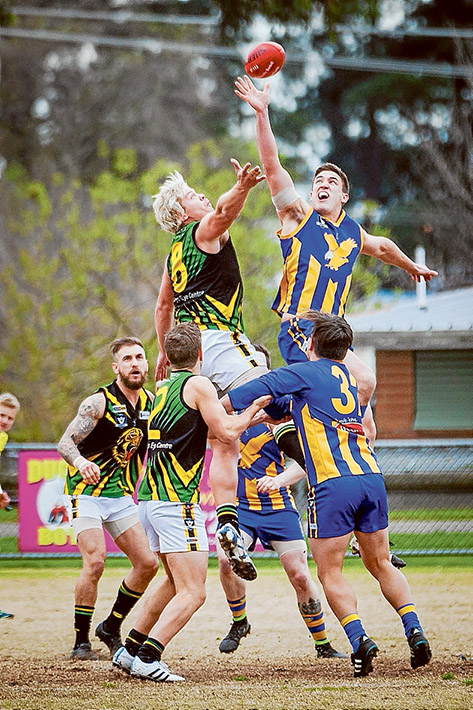 TYABB lost its second game in successive weeks by more than 200 points on Saturday in Nepean League, this time at the hands of Rye.
The Yabbies booted one goal in the opening quarter and were restricted to just two behinds for the remainder of the match.
Hastings too booted 38 goals last week against Tyabb and won by more than 200 points.
This week Rye booted 18 goals in the opening half and 20 majors in the second hour to record a 38.20 (248) to 1.2 (8) win.
The recent plight of Tyabb FC has been well documented and further highlights the incredible need for the governing body to put structures in place to ensure their long-term viability.
As a club, Tyabb is united. It is working tirelessly but copping 200-point thrashings can be taxing.
The Demons had 12 goal kickers on Saturday. Dean Millhouse and Adrian Gileno booted seven each, Andrew Dean kicked half a dozen and Ryan Mullett was the best player on the ground with five.
Rye premiership coach Steve Ryan played seniors too and finished with two majors.
Chris Samways and Adrian Clay worked tirelessly for the Yabbies.
Red Hill returned to the winners list against Devon Meadows after three weeks of misery.
The Hillmen had lost their past three games and trailed the Meadows by three points at quarter time.
The home side recovered to boot 10 goals to one after the first change to run out 11.14 (80) to 3.4 (22) winners.
Jake Mold booted three goals and was impressive while Marcus Dal Lago and Blake McCormack were outstanding.
Taz Douglas and Clint Walker were the best of the Meadows, along with Jess Dehey and Steve McInnes.
Rosebud continued its march, this time thumping Pearcedale to the tune of almost 11 goals.
The Buds set-up the win with a seven goal to two first quarter. They went on to win 18.15 (123) to 8.10 (58).
Tom Baker booted five majors and Lachy Armstrong three while Ryan Spooner and Greg Bentley dominated.
Dylan Hoare and Ben Mitchell were the best of the Dales.
Sorrento's Tyrren Head continued his outstanding season on Saturday with a best afield five goals in his sides 17.9 (111) to 8.10 (58) win against Frankston.
Leigh Poholke kicked three goals also for the winners while James Brigden and Troy Schwarze also saw a heap of the footy.
Matt Harris and Jason Curry were the best of the Bombers.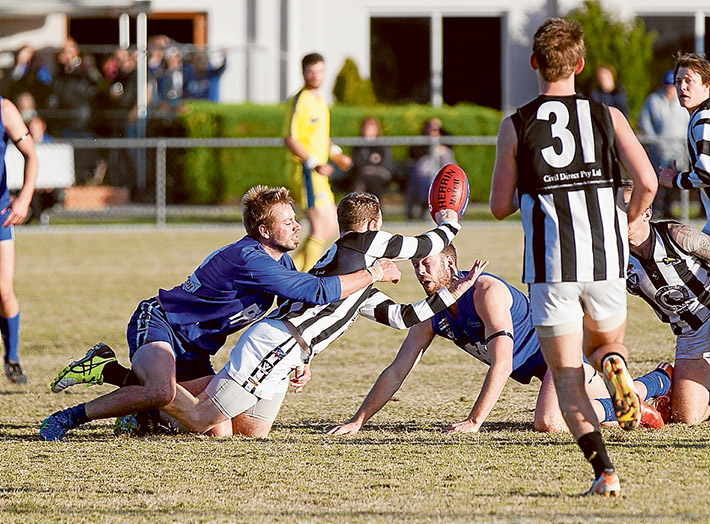 Somerville was at its brilliant best on Saturday, booting eight goals to zip in the first quarter against Dromana and winning by 13 goals, 22.15 (147) to 10.8 (68).
Rohan Hogenbirk and Jedd Sutton finished with three goals each for the Eagles while a further ten players contributed on the scoreboard.
Timmy McGennis was superb once against for the Eagles, dominating through the middle of the ground, racking up possessions and finishing with a couple of goals.
Justin Farrelly proved once again why he is one of the best big men in the game and Billy Rolfe played his best game for the season.
It was a tough day at the office for the Tigers, although Christian Ongarello and Daniel Guerts worked hard.
Hastings and Crib Point is usually a tough contest but it was very one-sided on Saturday, the Blues dominating and winning 22.19 (151) to 6.6 (42).
Crib Point booted three goals to Hastings' four in the opening quarter but was only able to kick three more majors for the match, compared to Hastings' 18 majors.
Taylor Stratton booted five goals in a best afield performance for the Blues while Luke Clark finished with four. Shaun Foster and Paul Rogasch were outstanding.
Brad Arnold and Dean Karies were the best of the Magpies.