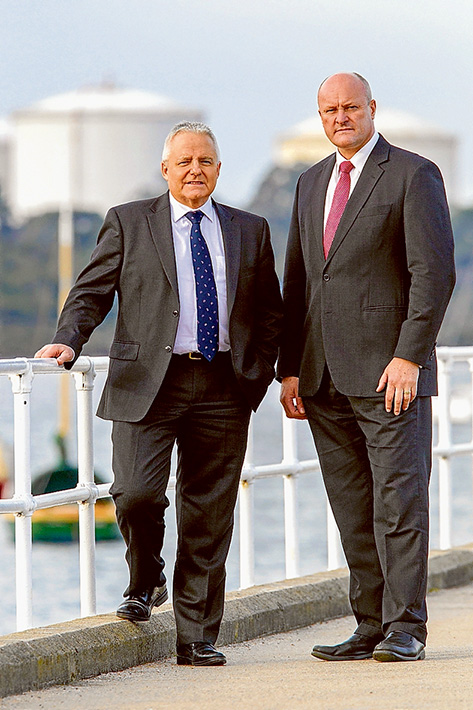 HASTINGS MP Neale Burgess is predicting a dark future for Hastings because of the state government's decision to increasingly use Western Port as a "bulk" port.
The scaled-down Port of Hastings Development Authority has swung its focus from preparing for a container port to promoting its use for bulk products, such as LNG (liquefied natural gas), petroleum products and brown coal.
Hastings is already used to import and export petroleum and gas products and Mr Burgess accuses the government of having "secret plans" that will lead to Western Port being "a toxic dumping ground", damaging lifestyles and cutting property values.
Ports Minister Luke Donnellan last month said he expects the PoHDA "to chase opportunities in bulk to continue to grow the port down there".
"There are enormous opportunities, obviously, in relation to storage of petroleum, because we are importing so much petroleum now," Mr Donnellan told the Public Accounts and Estimates Committee on 22 May.
"I would also like to see [the PoHDA] look at chasing down business in the energy sector, because the Latrobe Valley has enormous brown coal deposits, gas and so forth.
"I would really like to see the port of Hastings grow very quickly, because potentially that is the appropriate port to bring things in and out of. That is really where we are up to with the port of Hastings."
Mr Donnellan said there was no need to rush into making a decision on where to a new container port as "we probably would not need a second port until about 2045, maybe beyond".
He said Infrastructure Victoria – to be established next year – would investigate if Bay West, in Port Phillip, or Hastings was the best site for a second port
"The west has enormous advantages in relation to regional rail and major highways, whereas Hastings has enormous advantage in relation to a deep sea port. But the problem with Hastings is it does not have the road and the rail links," he said.
"I do not think either particular option is easy. I think we really need a thorough and rigorous analysis by Infrastructure Victoria — by economists, transport planners and the like — to actually get it right.
"I think we need to, as much as we can, put it into an independent entity to do it, not to put it into the hands of politicians."
With Hasting effectively out of the picture for a container port for at least a further 30 years, Mr Burgess has accused the state government of having "secret plans" for Hastings.
"Mr Donnellan stated that Labor will use the Port of Hastings for shipping brown coal," Mr Burgess has told The News.
He says the brown coal will be piped as slurry to a "drying plant" at Hastings.
Mr Burgess said the coal industry had unsuccessfully "pushed and pushed" for the previous Liberal/National government to back the project.
"We said no, but I don't think people understand what bulk means," he said.
"There was no mention of Labor's plan to use Western Port as a toxic dumping ground during the election.
"The Brumby government planned to turn Hastings into a bulk port for coal, bitumen and urea and, when it lost government, it had already given Boral the go ahead to build a bitumen plant on the foreshore at Crib Point."
Mr Burgess said the bitumen plant "was only stopped when the Coalition was elected in November 2010".
The decision to not go ahead with a container port at Hastings meant "many thousands of jobs" had been lost to the area.
"If Labor succeeds in turning Western Port into its toxic dumping ground, our local amenity and life style will be permanently damaged, property values will be slashed, businesses will be ruined and tourists will turn away from our part of the peninsula in their droves."