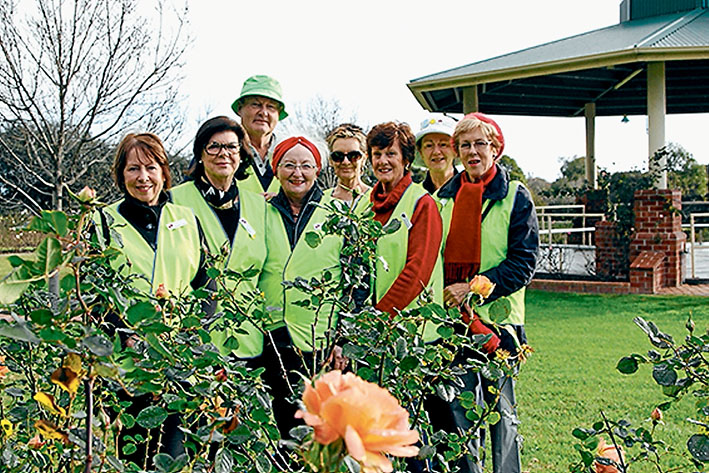 MORNINGTON Botanical Rose Gardens' volunteers can take a bow. Their efforts have been acknowledged by an Award of Garden Excellence from judges at the 17th World Rose Convention in Lyon, France.
The 39 members of the World Federation of Rose Societies have confirmed that, while there are many wonderful rose gardens around the world, some are truly exceptional from a historical, educational and/or visual point of view.  One of them is at Mornington.
From 1995, the World Federation of Rose Societies has recognised the best of these outstanding rose gardens for the award. Of the three recipients in Australia all are in Victoria: the State Rose Garden at Werribee, Morwell Centenary Rose Garden and the Mornington Botanical Rose Gardens.       
Volunteers from Mornington attended the presentation and received a certificate.  A plaque is being made in Italy to be presented at the gardens in spring when blooms are plentiful.
Mornington Botanical Rose Gardens were nominated by Australian Rose Society past president Ian Spriggs three years ago. In that time, it has been assessed by experts from the Victorian and Australian rose societies and their presentation forwarded to France to be voted upon at the conference.   
"Mornington Botanical Rose Gardens are managed and maintained by volunteers who are to be congratulated for their efforts in achieving this prestigious award," volunteer, committee member and assistant treasurer Graeme Dent said. "Many thanks also must go to everyone who has sponsored and/or assisted the MBRG Inc. over the years."
Mornington Rose Gardens are in the Civic Reserve, corner of Dunns Rd and Mornington-Tyabb Rd. They are seven days a week and admission is free to the public.
A pruning weekend will be held on 11-12 July. Free pruning demonstrations will be held at 11am and 2pm on both days. New volunteers are welcome to join the team.   
Visit morningtonrosegardens.com.au