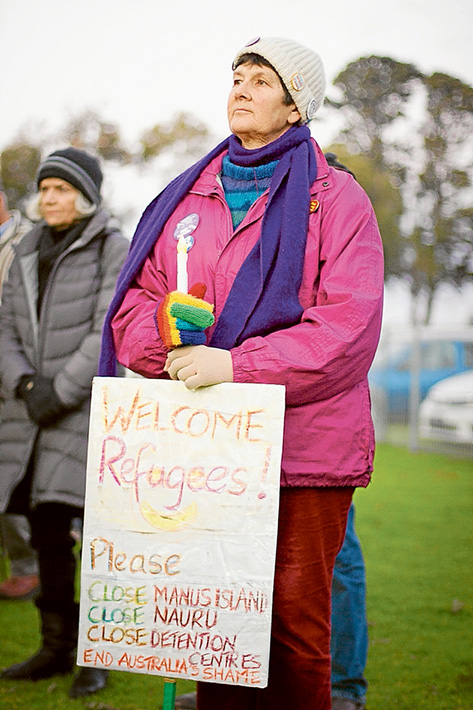 A PRAYER vigil is the latest action by peninsula Christians to pressure the federal government over its asylum seeker policies.
More than 50 people joined three Uniting Church ministers for a 90-minute vigil outside St Mark's Church in Mornington on a cold Sunday afternoon last week.
It was organised by Reverends John Haig (Mornington), Paul Chalson (Mt Martha) and Cameron McAdam (Mt Eliza). It was followed by a sausage sizzle with proceeds going to Dandenong Asylum Seeker Centre.
Rev McAdam said most Mornington churches had representatives at the vigil.
He and other Christians have taken a high profile in recent months over asylum seeker policies including protesting outside the Frankston office of federal MP Bruce Billson, the Minister for Small Business, late last year.
The protest came just days after the federal government made sweeping changes to the nation's immigration laws, including agreeing to remove all children in camps on Christmas Island, but not children in other camps such as Nauru.
Rev McAdam said he and other Christians would continue to lobby the government and push their views out into the community while children remained in detention.
"There are still 81 children on Nauru and 138 children in detention on the Australian mainland," he said. "The government must release all children from detention, close offshore detention centres, and introduce a fairer and more reasonable policy approach including a regional solution in the future."
Rev McAdam and his two Uniting Church colleagues are also members of the loose alliance of Christians called Love Makes a Way, members of which have held protest sit-ins at the local offices of federal government politicians including Flinders MP Greg Hunt's at Hastings, where Rev McAdam and several others were arrested by police.
The 44-year-old minister was appointed to the Mt Eliza parish 10 months ago.
He publicly entered the refugee debate after the Rudd Labor government hardened asylum seeker rules in mid-2013 when it announced arrivals would not be settled in Australia, and that offshore detention centres closed in 2008 would be reopened, including Nauru and Manus Island in Papua New Guinea.
"We prayed not just for asylum seekers trying to reach Australia but for all displaced people in the world including Africans trying to reach Europe, and Rohingya from Burma and Bangladeshis trying to escape persecution and crushing poverty in Asia," he said.
"There are more than 50 million refugees worldwide with 11.7 million at highest risk, according to the United Nations refugee agency. In 2012, only 88,000 were resettled. Australia took just 6.7 per cent. Australia's overall intake in 2013 was 34,500, 48th in the world for number of refugees hosted but 74th measured against economic wealth."
Vigil attendees heard from a Filipino asylum seeker and Christian minister who was tortured in his own country and falsely accused of murder, refugee advocate Jill Ruzbacky, and Love Makes a Way member Jake Doleschal.
More prayer vigils will be held this year.