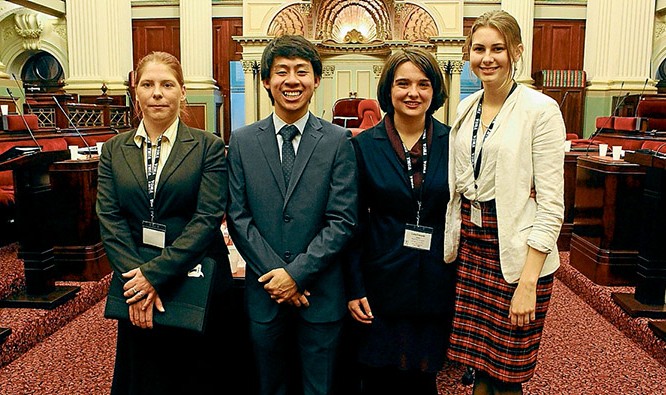 A GROUP of young people from Mornington Rotary Club have successfully pushed a Bill through the YMCA Victorian Youth Parliament to make it law for supermarkets to donate all edible, unsold food, to those in need.
The group included Lucy Martin, Heap Do, Lydia Edwards and Kate Purcell.
Their Bill will now be forwarded to Consumer Affairs Minister Jane Garrett and, they hope, pass through State Parliament to become law.
This follows similar legislation introduced in France ruling that all unsold, edible food from supermarkets, be donated to charities or for animal feed. That legislation has garnered significant global support.
Youth Affairs minister Jenny Mikakos opened the 29th YMCA youth parliament in late June. It was attended by 120 delegates from across the state – all aged 16 to 25.
They sat in the parliamentary chamber to debate 20 Bills over three sitting days. The issues were covered by 18 aspiring journalists in the Youth Press Gallery.
The Mornington group claims food insecurity is on the rise – yet an estimated four million tonnes of edible food is dumped each year. Their bill will make it compulsory for supermarkets to donate that food.
Rotary team member Jessy Hall said a sustainable food policy he saw while living in England inspired the bill topic. "I came across a pay-as-you-feel cafe that only served recycled food and then France legislated that all unsold food from supermarkets must be donated to charities or for animal feed. The legislation garnered significant global support. After that we really wanted to start a global trend."
Mornington Community Information and Resource Centre manager Lisa Elliot said she was "very excited" by the bill, which, if it becomes law, will unleash a huge volume of fresh food for Mornington's needy.
"We've had a 50 per cent funding cut courtesy of the federal Budget and this would help us overcome that," she said.
"We can't give food vouchers but we would be able to give more food."
Food distribution charity Foodbank communications coordinator Mikaela Figgis also welcomed the idea of a compulsory food redistribution plan. "The bill will increase awareness and understanding of hunger and food wastage in Victoria," she said. "And it will mean we can rescue more food."
But not all food distributors agree. Large peninsula food group SecondBite believes legislating the change "is not the right way to go about it".
CEO Elaine Montegriffo said her group already had a voluntary national distribution arrangement with supermarkets Coles, Aldi and Woolworths, and that the legislation may force them to "dump food on us".
"We encourage the supermarkets to donate to us voluntarily, but not force to do it. When we have the sort of beneficial arrangement we already have it would seem a pity to spoil it."
FareShare CEO Marcus Godinho says his charity collects perishables from about 85 food suppliers. He says it is not necessary to have government resources tied up in the administration and management of a compulsory system.
"If the government came in now and said you have to do what you are already doing it would be a bit silly.
"A better use of government resources would be to assist charities by increasing their capacity to collect food, possibly with funding."
Apart from the economic dilemma of wasting food, there are environmental issues to consider, including the production of methane gas through waste decomposition and the ever-increasing size of landfills in Victoria.
And the cause of the food waste is often petty – mostly because consumers will only buy aesthetically pleasing, unblemished items.
Other bills debated at the youth parliament included minimising the impact of the use of Ice on families, compulsory family violence education in schools, and free mental health first-aid training in secondary schools.
Over the past 20 years more than 20 Bills passed by the youth parliament have gone on to become law. These include the mandatory wearing of bike helmets, nightclub safety reforms and blood alcohol content for drivers accompanying learner drivers.
The state government contributed $101,500 to the Youth Parliament and Youth Press Gallery program.
"This is a very practical way of engaging with Victoria's youth and hearing what they have to say," Ms Mikakos said.
"As well as being a great experience for aspiring politicians, it is a valuable experience for all young people to have a sound understanding of how parliament works."
By press gallery members Lauren Colosimo and Claudia Jambor with Stephen Taylor