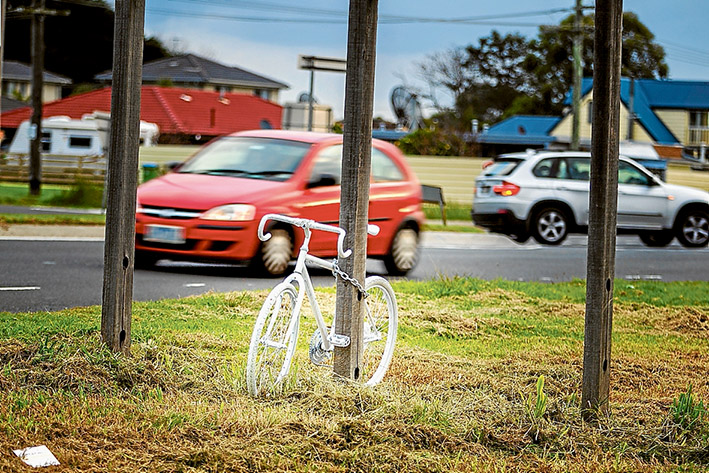 A "GHOST" bike has been erected in memory of cyclist Joel Hawkins, 17, who died last week after being knocked down by a car in Dromana on 17 June.
The white bike is at the site of the accident on the corner of Nepean Hwy and Ponderosa Place, Dromana.
The keen Mt Martha cyclist was flown to the Alfred Hospital where he remained on life support until early last week.
Friends placed the white-painted bike at the crash site in memory of the Dromana College student.
In an online tribute Mornington Cycling Club offered "its deepest condolences to the family of Joel Hawkins who recently passed away".
"Joel was an incredibly dedicated rider and a fantastic young talent who was well loved and respected within our cycling community. It is with great sadness we learn of his passing. Joel Hawkins: Forever in our hearts".
Bicycle Network CEO Craig Richards said the death of any person on our roads was "incredibly traumatic for all involved and in some circumstance a roadside memorial may assist as part of the grieving process".
"We believe it's vital to respect the wishes of the rider's family and friends. It should be their decision whether displaying a ghost bike assists with their grieving. We don't encourage advocates putting up memorials on their own as it may upset the rider's family and friends.
"Although the use of ghost bikes in Victoria as roadside memorials is rare, we would hate to see situations where memorials are distracting other road users and risking further trauma."
VicRoads says it recognises members of the community may wish to mark the location of a fatal road crash with a roadside memorial, such as a ghost bike. A spokesman said VicRoads "respects the importance to family and loved ones to place a memorial on roadsides while also considering road safety and community concerns".
He said VicRoads was in the process of reviewing the roadside memorial policy. "We are engaging with members of the community to understand community expectations and concerns regarding roadside memorials," he said.
It is expected the policy will be finalised and available later this year.
First published in the Southern Peninsula News – 7 July 2015