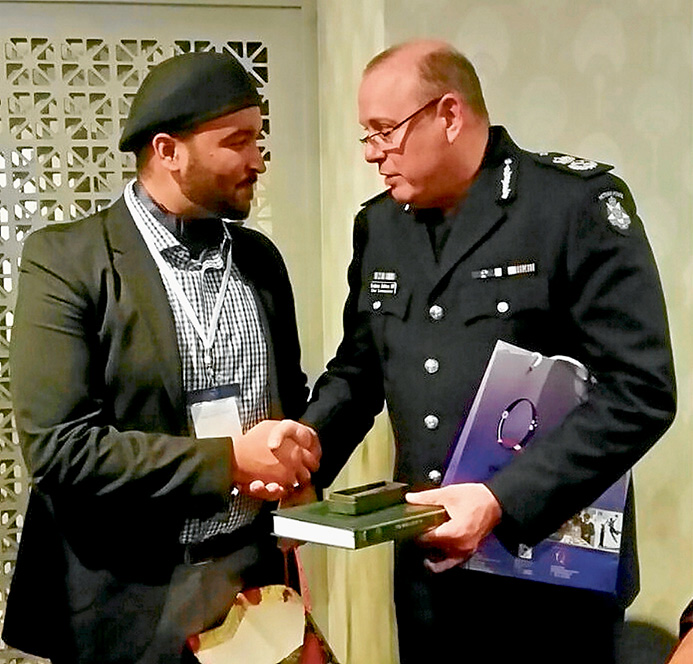 POLICE last week invited religious leaders to a dinner marking the end of the month-long Ramadan fast.
Police said 200 hundred people attended the dinner, including more than 60 young Muslims and 50 police officers and employees.
Mr Ashton said he was proud the Iftar dinner was his first official function as Chief Commissioner.
"The Victoria Police Iftar dinner gives police a chance to show respect to the Islamic community whilst breaking fast and reflecting together," he said.
"Ramadan is also an opportunity for all of us, regardless of faith or background, to reflect and acknowledge the important contribution the Muslim community has made to Victoria.
"The views of young people are particularly important to Victoria Police. We all need to hear their fears and aspirations and take them into account when we make decisions that affect them."
After the Iftar dinner Syed Wadood Janud, Imam of the Ahmadiyya Muslim Association's Langwarrin mosque, gave a copy of the Koran to Chief Commissioner Graham Ashton.
As well as marking the breaking of fast in Ramadan the dinner provided an opportunity for police to broaden their understanding of Islam and build ties with the Muslim community.
"It is encouraging and pleasing to see Victoria Police integrating with the wider community, especially the Muslims," Imam Janud said.
"The dinner provides a platform for building bridges of understanding and mutual trust.
"It is heartening to see Muslim youths feeling recognised and involved, and their voices heard."
Imam Janud said the Ahmadiyya Muslim Community of Victoria had close ties with police "and stands by all law enforcement authorities in keeping this beloved country of ours safe, from both internal and external threats".