PENINSULA LEAGUE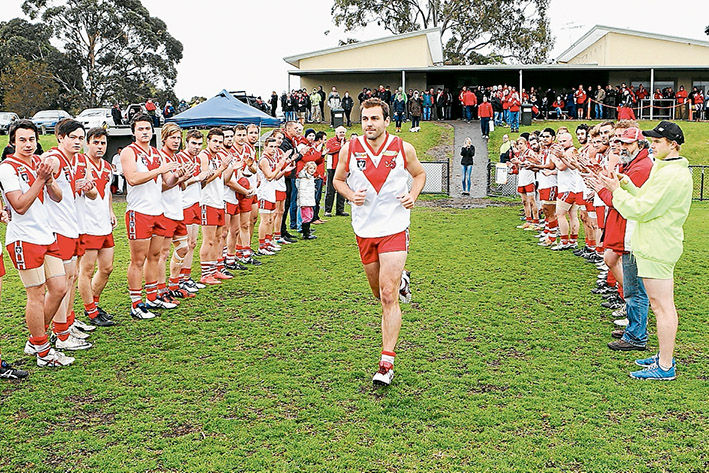 IT'S not very often that any individual is bigger than the game of AFL football.
And rarely do we see it where the player is viewed so highly that he is placed before the club.
However, every now and again, it's important to stop and recognise the contributions and impact that individuals have made on your football club.
On Saturday, the footy public stopped for arguably the best centre half back of the past 20-plus years in Luke Van Raay.
The Karingal Football Club star ran out onto the ground for his beloved red and white for the 250th time against Pines on Saturday.
His club has not won a game in 2015, however, up until three quarter time on Saturday, Van Raay, along with 21 of his mates, appeared as though they were going to cause the upset of the season.
Pines, as expected, upset the party. The Pythons booted 10 goals to four in the last quarter to win  19.15 (129) to 13.11 (89).
It's highly unlikely that Luke Van Raay will ever play in a senior premiership. He's played in grand finals with the Bulls but never tasted the ultimate success at senior level.
Luke has no intention of retiring any time soon but understands that after losing 17 of your best 22 players, rebuilding will remain tough.
He doubts that he will still be playing when the club is back near the top again.
However, for Luke Van Raay, whilst players love to win, it has never been the key driver for him.
"Having a beer with Michael Burke (Karingal coach) on a Thursday night, hanging out with people around the club, that's what football clubs are about," Van Raay said.
"Sure, I'd love to have won a premiership and it's my biggest disappointment. Perhaps I could have gone to another club to chase that, but my friends and family are what are important to me.
"Karingal Football Club is my family and I've never had any intentions of leaving it. My immediately family, extended family, friends and their families have been involved in this club all the way along.
"We are experiencing some tough times on the field now but I'm sure we'll experience great times again in the not too distant future.
"It's tough to go out there every week and know you are up against it but you find inspiration from others.
"Michael (Burke) is a constant inspiration. A four-time best and fairest winner who has been unbelievably loyal too.
"Daniel Watts, the president, has done everything that anyone can do at a football club including playing and coaching premierships, best and fairests and he continues to give so much of himself.
"These guys are in a league of their own as far as I'm concerned and I'm just glad that I have spent so much time with and around them.
"All I want is the best for the Karingal Football Club and this will always be my priority, even when I stop playing," Van Raay said.
Michael Burke booted five goals on Saturday for the Bulls while Travis Puntaroni and Nathan McDonald in his first game was outstanding in the 13.11 (89) to 19.15 (129) loss.
Shaun White was outstanding for the Pythons with three goals, Aaron Edwards was solid with four and Adam Maling and Beau Hendry were at their best.
Mt Eliza bounced back from its horror defeat last week against Frankston YCW to put Bonbeach to the sword on Saturday.
The Redlegs were unrelenting and should have been almost 10 goals in front at quarter time (2.9 to 0.2).
Justin Van Unen booted seven goals to give him 67 for the season while Rob D'Orazio, Sam Gill and Jimmy Clayton were amongst the Redlegs' best for the second week in a row.
Jackson Sole, son of the great Kenny, is making a real mark in senior football and he was his side's best again, while Ben Hogan and Mark Tyrell also worked hard in the 3.11 (29) to 14.14 (98) loss.
Seaford received the news through the week that senior coach Ben Crowe was not interested in coach the club in 2016.
Crowe wouldn't be drawn into the speculation that he will go back to his home club Somerville and finish his playing days with the club that is looking ominous.
Instead, he wanted to focus on the rest of the 2015 season and try and win as many games as possible.
That didn't start well, the Tigers going down to Mornington on Saturday 19.5 (119) to 6.7 (43).
Jackson Calder booted six goals and Adam Symes four for the winners while Michael Gay and Danny Nolan dominated.
Michael Herbert and Kane Taylor were named Seaford's best players.