HASTINGS FNC – 
By Phil Stone, club president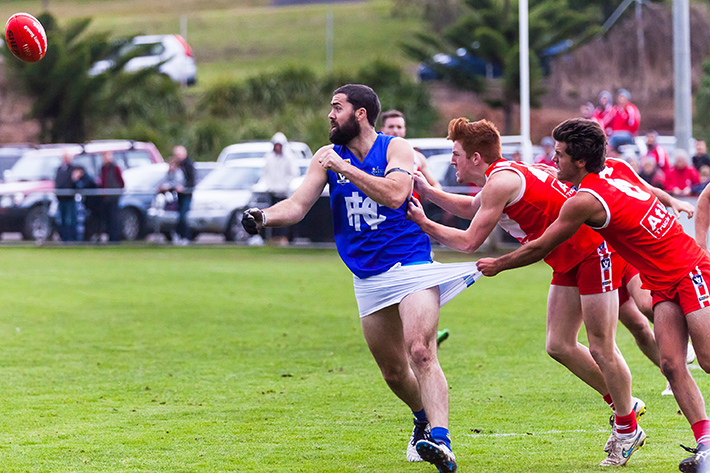 THIS week saw the Hastings FNC travel down to Sorrento for a massive test through all grades, but unfortunately all sides were unable to get the job done. We now have to prepare ourselves for a massive challenge in a fortnight's time, as a club we need to stay focused on the challenges that lie ahead. We are a resilient club and cannot wait for our next contest in a fortnight's time against Pearcedale FNC at home, so we are expecting a good turn up from all our supporters.
SENIORS
We came up against the current premiers. The day started well and I felt that the first half of footy was a great game, the pressure was high and both teams had their chances and there was not much in it at half time.
In the third quarter we had more than enough of the ball but our skills really cost us and weren't able to get the score on the board that we warranted.
The last quarter was one that we would rather forget they really intimated us mentally and threw us off our game and they ran away with it. It was really disappointing to end like that and we should all look back and know we won't get anywhere if we lay down like that.
RESERVES
We took the long drive down to Sorrento in a must win game and the boys got off to a great start matching it with Sorrento in every department to be even at quarter time. Into the second quarter it became a slog with both teams applying pressure and turning into a real arm wrestle and not being able to break out. Mickey Cave was in everything and using his strength around packs to feed the runners, Terry Green was doing a great job on their coach at centre half back and we went into the half-time break nine points down. Into the third quarter and the boys lost concentration on the task at hand and let Sorrento get some easy goals and run away with the game, scoring at will. Into the last quarter the boys were urged to lift and put into a huge effort to get back into the game and they tried everything and got back on top to win the quarter. The boys played well for three quarters but unfortunately Sorrento made the most of the third quarter lapse and kicked away. Better players on the day were Mickey Cave, Terry Green, Chrissy Lehmann, Dylan Paarlberg and Jason Bradshaw.
UNDER 19s by Aaron Wilson
Hastings 19s were unable to stop a surging Sorrento, as the home side steamed to 80+ points victory. A four-goal lead at quarter time put Hastings on the back foot and Sorrento didn't let up from there. A frustrating game as Hastings showed glimpses of what they can do when they play as a team. Jamie Hurst returned to form with a big game in the midfield whilst Ash Ainslie had a solid day in defence. Another tough day at the office for the boys. They will look to regroup and get back to their best footy after the bye when they line up against Pearcedale.
NETBALL REPORT
Disappointing day for us, with hopes that we could get our first wins on the board, but it wasn't to be. Injuries and illness have hit us mid-season and the break will help us to hopefully rest up and finish out the season strongly.
C grade welcomed new player Monique Boer back to our club and after a slow start really warmed up and took intercepts and started to provide drive down the court in offence. With a much stronger second half that's what we have to take into our next challenge against Pearcedale.
B grade were depleted of a couple of regulars but strengthened by a new player to our club in Gemma Sait, welcome Gemma and third gamer Erin Newman. The result didn't go our way but we ran the match out and kept challenging until the very end. The positives for B grade were the openness and game style that we've been working was very evident in many passages of play.
Let's train hard and aim for a win to go into our Ladies Day next round against Pearcedale.
UPCOMING FUNCTIONS
Ladies Day Luncheon for Breast Cancer Awareness Bookings made thru the Hastings Club 5979 1740, $40 single photo booth, DJ, heaps of prizes, raffles on the day, player auction fun filled day, speak to Renee Owen.
Saturday 1 August, Presidents Luncheon recognising all our business partners/Brainwave Foundation, all members are welcome two course meal, Cost $35 single bookings made through the club or Philip Stone 0412 226 758. Special guest former Footscray 5 time best & fairest Brownlow medallist John Schultz, starts at 12 noon.
This Saturday sees Hastings FNC have a bye. Next home game Saturday 18 July, Hastings FNC vs Pearcedale FNC at Hastings.
Go Blues!