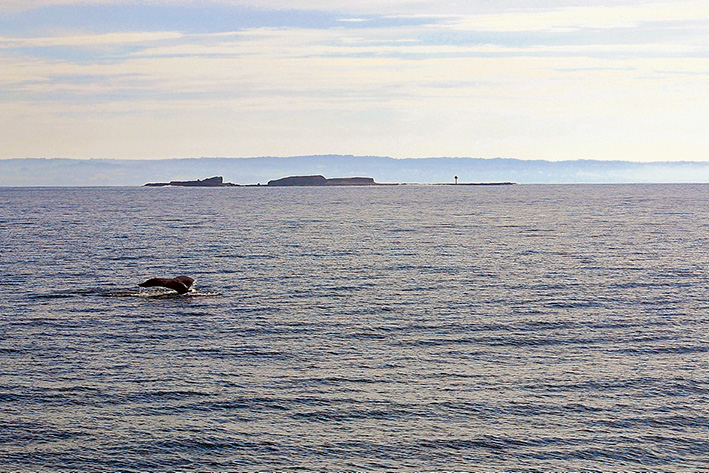 IT has been a record year for whale sightings in and around Western Port.
Nearly 80 sightings of mostly humpback whales have been reported in the bay, from near Crib Point, Phillip Island and Sea Rocks.
Others have been spotted off Mornington Peninsula surf beaches.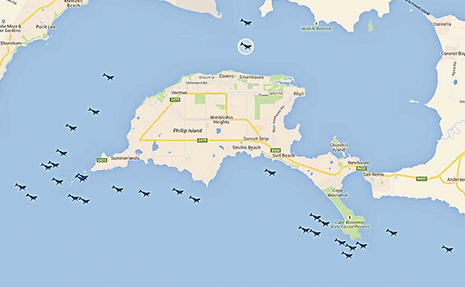 With the whale spotting season ending next month (August) Dolphin Research Institute executive director Jeff Weir said the increasing number of whales "is consistent with the population of humpback whales still recovering from the days of commercial whaling".
The whales have provided a pleasant added extra for passengers on the French Island ferry as well as proving a boon to tourism.
Mikala Peters, education and environmental officer with Phillip Island-based Wildlife Coast Cruises, said good sea conditions from mid-June had enabled them to show passengers "spot numerous pods of Humpback whales as they travel along Bass Coast and into Western Port on their way to Queensland".
Ms Peters said the sightings included two killer whales. She said whales had been sighted during whale and seal watching cruises off Cat Bay, Ventnor, Red Rocks, Cowes and off French Island on seven different occasions. Some trips had recorded up to four sightings.
"With approximately 560 people on the Whale Hotline network, awareness of sightings is high and locals and visitors alike have a very good chance of seeing whale blows from shore," Ms Peters said.
Mr Weir said researchers had noted changes in the patterns and timing of aspects of the whales' migration up the east coast. "It might be that we are seeing the result of greater numbers of whales where some individuals are doing different things," he said.
"At the same time we are seeing changes in the distribution of other marine species around our coast, so this could also be symptomatic of much wider environmental changes."
Both Mr Weir and Ms Peters said it was important that people in boats remember not to approach whales closer than 200 metres.
"This is both to respect the whales and also keep people safe," Mr Weir said. "In 2013 DRI team members witnessed a competitive pod of humpback whales off Mt Martha, with six animals seeming to fight for dominance.
"Six animals, each the size of a tourist coach, playing underwater demolition derby, leaving blood and skin on the water's surface. Any vessel too close would have been smashed."
Wildlife Coast Cruises leave Cowes at 9.30am Saturdays and Sundays until the first weekend in August.
Whale sightings are published on the Two Bays Whale Project's Facebook page.