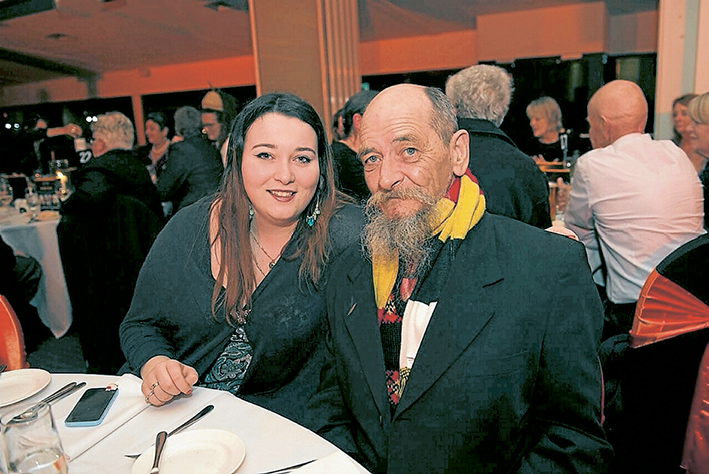 INDIGENOUS artist Bob Kelly, of Rye, was named Artist of the Year at the annual NAIDOC Ball at Mornington Racecourse on Friday 3 July.
The event heralded the start of NAIDOC Week, a major happening on the Indigenous calendar, with events across the country celebrating Aboriginal and Torres Strait Islander contributions to our way of life.
This year's theme was: "We all stand on sacred ground – learn, respect and celebrate".
Djirri Djirri dancers performed traditional dance, accompanied by the didgeridoo, before the crowd of 250. Among the guests were Mornington Peninsula mayor Cr Bev Colomb, Cr Tim Rodgers, shire CEO Carl Cowie and Frankston councillor Darrel Taylor.
Mr Kelly said later that he had been painting and drawing "since I was a kid, before I even started school".
"The women would be beading and weaving and handing me drawing materials and I took to it very easily," he said.
"I stopped creating art when I was a teenager after being told my art would get me nowhere. It wasn't until I became a single dad in my 40s that I started my art work again. Now you can't stop me.
"I use various mediums, oil and carving. I make didgeridoos and boomerangs from local gum and tea tree and do limestone and bone carving."
He also illustrates children's books and paints on canvas as well as running workshops for schools and business groups.
Mr Kelly received a plaque, framed certificate and $50 voucher. "After all these years this is my first award," he said. His works are on sale at Baluk Arts, 6 Bruce St, Mornington.
Other major awards went to elder Aunty Yvonne Luke, community member Wenzel Carter, Tommy Corrigan (sports), Skyla Lauch (youth), non-indigenous Gerard Cook and Aboriginal organisation, Willum Warrain.
First published in the Southern Peninsula News – 21 July 2015