NEPEAN LEAGUE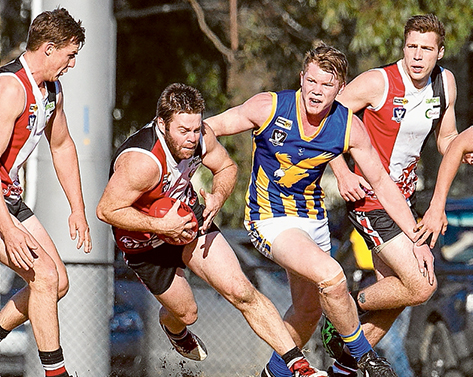 RED Hill has been knocked out of the top five after going down to Rye on Saturday.
The Hillmen were blown away in the third quarter by a much-improved Rye outfit and were never able to recover, going down 16.4 (100) to 11.10 (76).
Red Hill's place in the top bracket has been snatched by Sorrento, who led all day to beat top of the table Rosebud.
Rye's three big guns in Nathan Henley, Kris Bardon and Ryan Mullett were superb for the Demons on Saturday, responding to criticism that they, along with some of their teammates, were 'downhill skiers'.
Henley was judged best afield with 22 possessions and two goals, while Bardon had 26 touches and Mullett had 28.
Whilst Mullett had more touches (38) against Somerville two weeks ago, his efficiency with the pill on Saturday far outweighed his previous effort.
Andrew Dean was outstanding for the Demons too with four goals while Adrian Gileno and Ben Holmes each contributed three majors.
Rye had 56 inside 50 entries to Red Hill's 40, while they also had plus-10 clearances.
Red Hill's Harry Larwill booted four goals in the opening half and looked extremely dangerous. He was the Hillmen's only productive forward and looked as though he would kick a big bag.
However, Rye's brainstrust placed Adam Kirkwood onto Larwill after half time and he failed to contribute to the scoreboard again.
Michael Dillon, Jake Mitchell and Ben Macguiness were Red Hill's best players while Nick Bateman and Seamus Thompson worked tirelessly.
Daniel Schwind certainly looked to enjoy his time in the ruck for the Demons, competing very well in the contests and around the ground. With Rhett Sutton looking out of sorts in the reserves, Schwind could be the right option until Sutton is ready.
Sorrento once again flexed its muscles and reminded everyone that it is well and truly in the premiership hunt after defeating Rosebud by 24 points, 16.4 (100) to 11.10 (76).
The Sharks got their noses in front early in the clash and were able to maintain that slight buffer in the first half.
The visitors opened-up the contest in the third quarter, booting 5.1 to 1.3 to blow the margin out to a match winning 31 points.
Leigh Poholke was sensational for the winners with seven goals, while Miles Pitt was also dangerous in attack with four majors.
Leigh Treeby, James Hallahan and Tyrren Head continued their outstanding form and Jamus Campbell played his second strong game in as many outings.
Tom Baker was sensational for the Buds with six goals while Daniel Wilson and Glenn Peterson, two unsung consistent performers at the Buds, were at the top of their game.
Hastings regained some much needed good form on Saturday, restricting Pearcedale to just two goals while having 32 scoring shots themselves.
The Panthers were held goalless after quarter time, despite the outstanding performances from brothers Joel and Mitchell White.
Paul Rogasch dominated for the Blues while Dan Noble and Luke Clark booted five and three goals respectively.
Steve Charalambous returned for the Blues also and dominated.
Crib Point enjoyed a rare win this season, dominating against Dromana to win 11.17 (83) to 3.17 (35).
Dean Warry booted five goals while James Cook and Brad Davidson were in vintage form.
The Tigers were disappointing. The wheels have totally fallen off this side that was playing with enormous grit and spirit at the beginning of the season.
Only Terry Wheeler, Matt Jones and Billy Quigley were named in their best.
Frankston Bombers had 11 goal kickers in their 23.23 (161) to 7.9 (51) win against Tyabb.
James Orr dominated in the ruck and Tony Fulton had a heap of it while Andrew White and Jake and Scott Foster booted four goals each.
Jackson Cox, Darcy Underwood and Scott Pickersgill were the best of the Yabbies.
Somerville had to work hard to beat a plucky Devon Meadows by 28 points.
It wasn't until the last quarter that the Eagles were able to shake the opposition, booting four goals to two to win 11.11 (77) to 7.7 (49).
Luke Collie and Justin Allsop were superb for the winners while Billy Rolfe returned to the line-up and dominated.
Glen Michie kicked four goals for the Meadows while Pat Harmes and Jesse Dehey again showed their class.
There's a lot to get excited about if you're a Devon Meadows supporter.