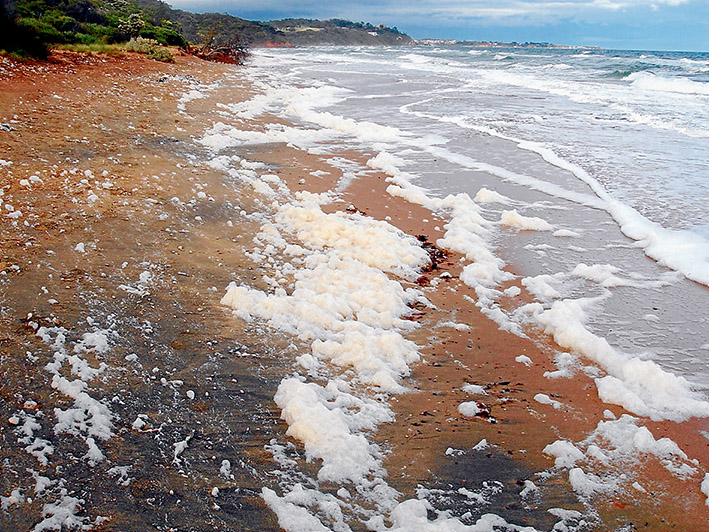 TOXIC foam produced in large amounts during strong winds in May killed coastal vegetation at Mt Eliza like it had been sprayed with weedkiller.
The foam is generated when a high tide coincides with a strong west-northwest wind. It is whipped up by the wind and waves, and blown inland.
The most recent event was during the big blow on 6 May and results of scientific tests just released reveal the foam contained anionic surfactants (used in detergents) and hydrocarbons (mostly found in crude oil and then refined into fuels).
Foam and foam residue samples were collected by Jeff Yugovic of Mt Eliza Coastcare and sent to a laboratory for analysis, paid for by Mt Eliza Association For Environmental Care, one of the region's oldest conservation groups.
Dr Yugovic, a biologist, told The News that salt spray was known to damage coastal vegetation but not salt-tolerant plants such as Australian salt-grass, which has been severely affected by foam at Mt Eliza.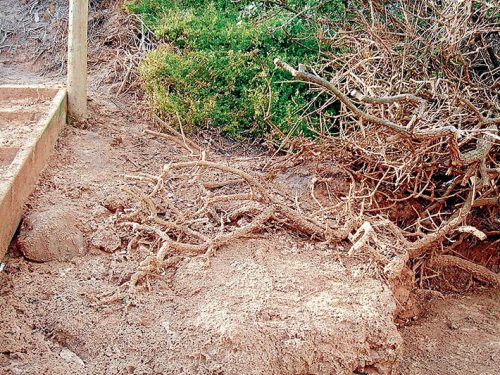 "Damage to coastal vegetation caused by surfactants from sewage outfalls deposited in sea spray has been observed in Europe, on trees planted around metropolitan beaches in Australia, and in Victoria at Barwon Heads," he said.
"The evidence suggests the toxic foam and vegetation dieback is caused by water pollution, in particular surfactants, possibly sourced from the Western Treatment Plant directly across Port Phillip from Mt Eliza."
Dr Yugovic said he had noticed dieback at Mt Eliza last June but decided to collect foam in May and get it tested.
"The foam was on the beach and foreshore all day. It's quiet difficult to collect in windy weather and keep in a bucket."
He said dieback appeared about a week or two after the foam was blown ashore.
Dr Yugovic said had also seen dieback at Mt Martha many years ago near Helena and Augusta streets and now realised it may have been caused by toxic foam.
"In very strong wind, the foam is blown well inland, sometimes landing on the coastal tea-tree scrub canopy on the plateau above the coastal bluff, which it also damages," he said.
"The foam attaches to any surface. It damages and generally kills foliage like a contact herbicide. In some locations a brown sludge is left by the foam, which dries to become a residue.
Dr Yugovic said the sludge is a mixture of clay derived from the land during wave 'attack' and substances in the water.
Melbourne Water says its Western Treatment Plant has four outfalls into Port Phillip. Dr Yugovic said outfalls at Cocoroc (south of Werribee South) and Point Wilson (closer to Geelong), 44 and 49 kilometres from Mt Eliza, could be the culprits.
"The treatment plant is a known source of surfactant, much of it being detergent, but is reportedly below the EPA limit. Some form of concentration on the water surface may be producing the foam."
He said strong winds from the southwest and north-northwest "do not appear to produce the foam, which is consistent with the treatment plant being the source of the surfactants".
Dr Yugovic said he had contacted the Environment Protection Authority for comment. "It said there are no standards or safe limits for surfactants or any substances in foam water and foam residue, as they are rare materials. Furthermore there are no standards for surfactants in marine water. I was told it was not possible for the EPA to comment on the test results.
"That may be so, but in Western Treatment Plant statistics, the EPA anionic surfactant limit is 0.8 milligram per litre in discharge water according to Melbourne Water but the foam water test result was 7.0 mg/L."
Australian standards allow 0.5 mg/L in drinking water and 1.0 mg/L in water used for other purposes.
The foam is a skin irritant and it is advisable to wear rubber gloves and eye protection when collecting or handling it.
Toxic foam events occur in the colder months when storm surges are more likely due to higher than average sea levels and when cold fronts bringing winds are stronger. Typically one or two events occur each year.