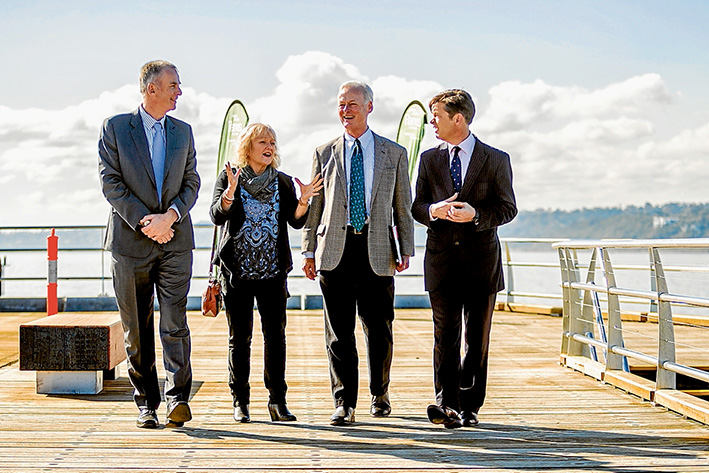 MORNINGTON pier's new outer section will open on Saturday week, Ports Minister Luke Donnellan announced last Thursday when he visited the town's iconic structure with members of the Parks Victoria board.
Parks Victoria will hold a "community celebration" at 10am on Saturday 8 August that will include a free sausage sizzle and other activities.
The opening will end a multi-stage construction project that started in 2010 under the Brumby Labor government, continued under the Liberal-Nationals Coalition government and is being opened by the Andrews Labor government.
The outer section has cost $15.3 million and the middle part $3.6 million for a total of almost $19 million.
Between 2010 and 2011, Parks Victoria contractors replaced the middle, 53-metre long part of the pier, a version of which has existed since 1857 when the town was still called Schnapper Point.
Labor did not have the cash for the outer section, which was closed in August 2010 after a series of storms damaged pylons and dislodged top deck planks.
In May 2012 the Baillieu Coalition government announced it would spend up to $15 million to replace the outer section.
Work to replace the section started in early 2014. On Thursday, workmen in dinghies under the pier were putting the finishes touches to concrete pylons, wrapping them in high-density plastic.
Mr Donnellan said the project included demolition of the outer section and more than 100 piles driven into the seabed to support a new 75-metre reinforced concrete platform and timber deck.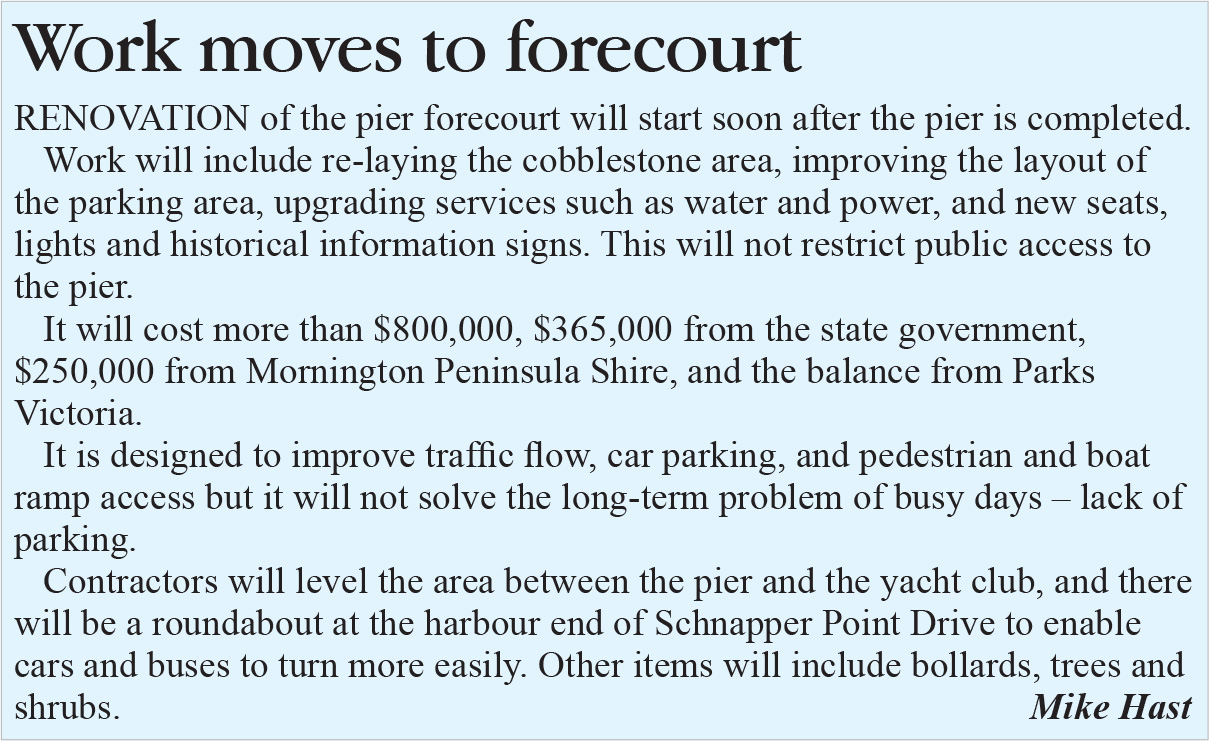 The outer section has new timber decking, handrails with LED lights, seats and overhead lights.
Other elements include wave screens to protect the harbour and a harbourside lower landing that was completed earlier this year to enable people on the cruise ship Pacific Pearl to disembark from launches.
Mr Donnellan said more than two million people visited the pier each year. "This project is good for locals, good for visitors, good for the tourism industry and it's fantastic to mark its completion," he said.
The project was also praised by Parks Victoria acting CEO Chris Rowe, PV's board chairman Andrew Fairley, and Mornington Peninsula Shire mayor Cr Bev Colomb.
During an inspection of the pier, Victor Teoh, Parks Victoria's senior manager of local ports and waterways, said bad weather and a six-week delay getting steel piles from China because of Chinese New Year had meant the project would finish in August rather than June.
He said the pier was half-concrete and half-steel with the outside concrete part designed to withstand storms. It pier was 131 metres long but had been extended and was now 137 metres.
The concrete came from Hastings, the wavescreens and handrails from Geelong, and the timber deck is plantation spotted gum from Queensland.
First published in the Mornington News – 28 July 2015