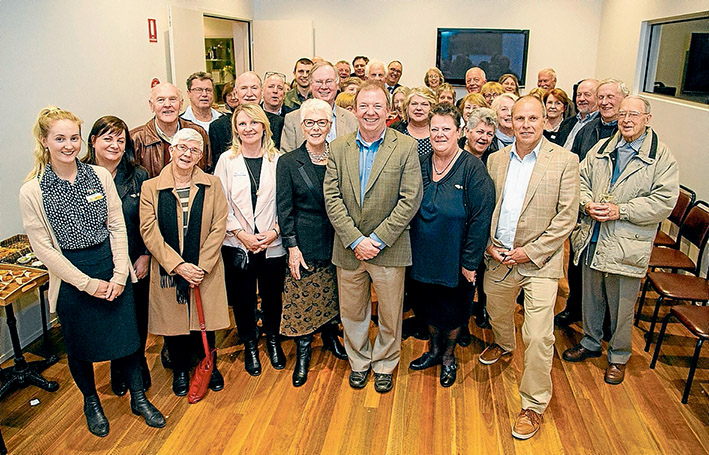 NEPEAN Ward councillor Tim Rodgers has criticised the state government for axing the Point Nepean quarantine station development proposed by Point Leisure Group.
During a speech at the recent opening of the $250,000 renovated Sorrento Community Centre, Cr Rodgers said the government was not "doing its bit" at Point Nepean.
"The refurbished Sorrento Community Centre with its large sporting hall is an asset for the whole of the Nepean Ward community – Blairgowrie, Portsea, Rye and Sorrento townships – and we may also get a new township for the community, Nepean township at Point Nepean quarantine station, if the state government manages to sort out its own mind as to what to do with this fantastic but neglected asset," he said.
Late last week Cr Rodgers told The News the Point Leisure Group proposal "had a lot of merit".
"It would be good for the state government to tell us how it will enliven the quarantine station precinct to the same or similar extent to that proposed by Point Leisure Group," he said.
"Where will refurbishment dollars come from?
"There has been 10 years of mucking around; it's time to activate the quarantine station."
Cr Rodgers' comments are risky as many people in his ward were against the proposal, which was dumped by the new state government earlier this year.
He said 75 buildings in the precinct needed to be brought up to "21st century standards and used rather than left empty".
None of the buildings had been occupied since about 1999 when they housed refugees from Kosovo, he said.
Cr Rodgers was contacted by The News after figures were provided to the newspaper that revealed Point Leisure Group would have spent $900,000 a year on renovations and improvements at its 64-hectare lease area, a total of $95 million over the lease period, adjusted for inflation.
The group would have spent $365,000 a year on rent, reviewed after 10 years with increases based on profit.
PLG had committed to spending $40 million plus $8 million on the spa complex, $20 million on a hotel and $20 million on an education centre.
All of the leased area would have been available to the public, although entry fees and other charges would have applied to some areas such as the spa and hotel.
Point Leisure Group would have been responsible for cleaning up a section of land that still contained unexploded ordnance from when the Australian Defence Force used Point Nepean.
Cr Rodgers' criticism followed news that the Labor state government could be liable for a compensation bill of up to $1 million after it and Point Leisure Group failed to agree on a scaled-back project – fewer buildings, a 50-year lease with no 49-year extension, and community consultation.
Labor opposed the lease prior to last year's state election, claiming the size and impact of the project was inappropriate and not supported by the community.
PLG, headed by Richard Shelmerdine and his wife Trine Nilsen, wanted to build a health and wellness retreat with hot springs, a spa, restaurant, hotel and conference centre.
The group has not given up on its ambitions although it will be back to the drawing board and back into the corridors of power.
First published in the Southern Peninsula News – 4 August 2015