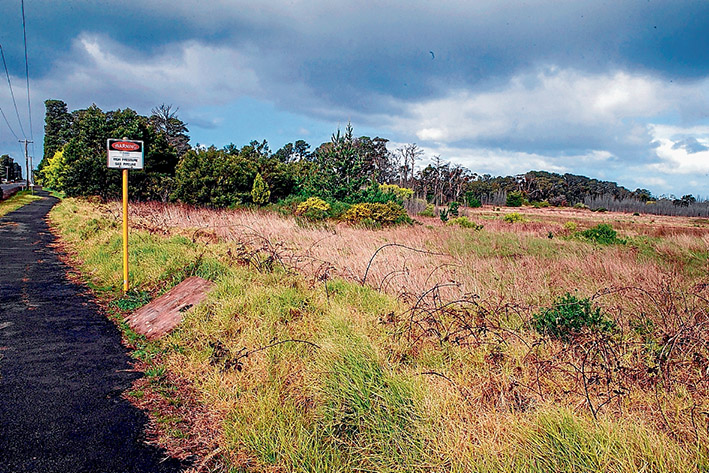 LAND bought for a fuel storage and distribution depot is the first step towards the realisation of state government plans for the Port of Hastings to be increasingly used as a "bulk" port.
An eight hectare site in Bayview Rd has been bought by Puma Energy, a relatively new player in Australia's fuel industry.
The company already has "seaboard" terminals at Brisbane, Mackay and Townsville, with a fourth being built in Perth.
It is understood Puma paid $2.2 million for its Hastings land which will be developed as a fuel storage depot at a cost of up to $120 million by Australian Fuel Distributors.
It has been suggested that ships bringing fuels to the depot could use Esso's wharf at Long Island Point, although a spokesman for Esso on Monday had no knowledge of Puma coming to Hastings.
The development would also add significantly to the number of large ships entering Western Port. There are about 50 expected this year, well down on the hundreds of a decade ago.
If built, the new storage and distribution depot will be the first port-related development at Hastings since the previous state government's plans for a container port at Hastings were scrapped when it lost office last November.
The current government's policy of leasing the Port of Melbourne for 50 years and its preference to eventually develop a container port within Port Phillip has seen staff numbers at the Port of Hastings Development Authority cut to 14, with more tipped to go by December.
Puma, whose Australian headquarters are in Fortitude Valley, Brisbane, describes itself as "a new breed of vertically integrated midstream and downstream oil company".
It started its Australian operations in 2013 after buying Ausfuel Gull, Matilda, Neumann and Central Combined Group "making us the largest independently-owned fuel company in the country".
Although yet to open service stations in Victoria, Puma says it has more than 270 retail sites and 20 depots across Australia, with its transport arm delivering more than 1.5 billion litres of fuel products each year.
While details of Puma's move into Hastings have been kept under wraps pending finalisation of the land deal The News understands talks have been held with the Port of Hastings Development Authority.
Asked to comment on Puma's plans Port of Hastings Development Authority CEO Mike Lean reiterated the government's plans and the suitability of "3500 hectares of port zoned land" being "attractive to a number of businesses who trade in bulk commodities".
"The government has a very positive agenda to increase trade at the Port of Hastings and the authority is being proactive in supporting the government's policy," Mr Lean said.
"Part of this is having discussions with potential customers about the natural benefits of using the Port of Hastings for their businesses."
Mr Lean said the vision for the port was, in part, for a "vibrant and growing port, facilitating continued growth and development of existing and new bulk trades in a sustainable manner".
He said potential new customers to the port would have to comply with regulatory requirements "before any development can take place".
"These regulatory processes can take some time to complete and there is no guarantee that a project will proceed until approvals are granted," Mr Lean said.
"Even post approvals, a large number of factors come into play to determine if a project will proceed or not."
Objections to increasing the storage of fuels within the port area of Long Island Point have previously centred on the absence of an alternative to Bayview Rd if access is prevented in an emergency.
Although unaware of Puma's plans for Hastings, Cr David Garnock said "it will be good if it brings jobs".
He saw no problem with approval being granted as the land was already designated industrial with other plants nearby.
Puma Energy did not respond to calls for comment.