HASTINGS FNC – By Phil Stone, club president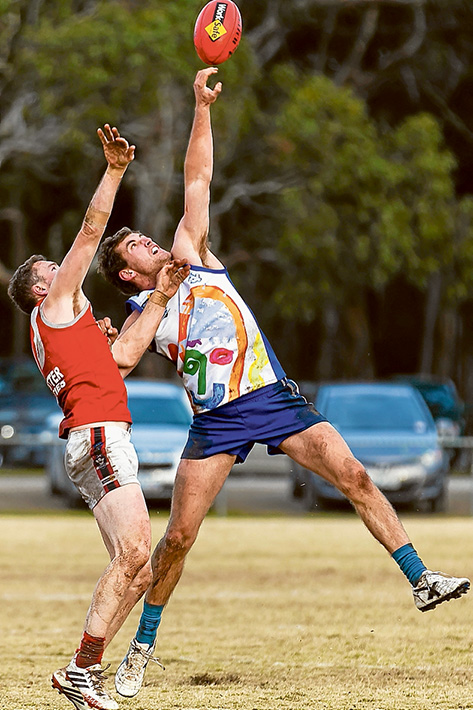 SATURDAY was a big day for the club. Coming of a terrific result against Somerville the boys had it all at there feet and what was a great opportunity to consolidate our position in the top five. We unfortunately fell to a much more committed Red Hill outfit. Hopefully we can learn from this result and show a much more steely resolve against Tyabb FNC at Tyabb this Saturday in what now shapes up as a very important game, with only three rounds to go.
A big thank you to everyone who was involved in the Presidents Luncheon. To our special guest ex Footscray great John Schultz, who was absolutely fabulous, what a wonderful man he is. A huge thankyou to Doug Ackerly for his efforts on the day, also to our very own John Watson hall of famer, team of century on his efforts on the day. It was a very well attended luncheon with all our 40 odd local business partners in attendance. We thank you all for efforts in supporting your local football team, it was just a pity we put on such a dismal display on the field.
Also to everyone who donated money to the Brainwave Foundation on Saturday we thank you very much a good amount of money was raised, and a special mention to Beth Conlin & to Leah Jones from Lyon Sportswear for the specially designed one-off jumpers. We thank you both for all your hard work the jumpers look sensational.
Seniors Report
REALLY disappointing effort by us. We were mentally and physically beaten in what was a very important game for both sides. The most disappointing thing was that we wanted to finger point and blame rather then dig in and get on top. We lost and opportunity on the weekend and now we are back in the pack. We need to refocus and go Tyabb with a different mindset.
Reserves Report
WE played Red Hill at home in a must win game to play finals. The boys got off to a very slow start in the first quarter and let Red Hill run rampant kicking the first four goals of the game before we even scored.
Into the second quarter the boys were asked to be more accountable and tighten up which they did; slowing the game down and little and getting on top around the stoppages.
Into the third quarter the boys were fighting very hard to get back into the game by playing a hard tackling brand of footy to be down by five goals at three quarter time.
Into the last the boys were urged to give it one last crack and what a quarter they played. Unfortunately we ran out of time and went down by five points in a thrilling quarter of football. Better players on the day were Mick Cave, Kyle Brouwer, Wade Delahaye, Dan Kerber, and Dylan Paarlberg.
Under 19's (By Aaron Wilson)
RED Hill under 19's were too strong for the Hastings under 19's in their round 13 clash.
After a relatively even contest before half time Red Hill stormed home in the second half to record a big win. Jakecob Whithers at full back was best on for the home team, after not getting beaten all day and applying great defensive pressure. Brennon Hassan continued his good form while Kyron Pratt at full forward kicked two goals. The boys will look to regroup and prepare for Tyabb next week.
Netball
WE welcomed Red Hill Football Netball Club to our home courts in what we anticipated to be tough matches.
C grade were out classed by a youthful Red Hill Team. Abbie Liddell had her best game  in the mid court since coming to Hastings.
A very slow start from B grade saw the score blow out very quickly in the first quarter which them put the match too far out of reach to challenge them. However they composed themselves and were very competitive for the remaining three quarters.
A grade focused on set team goals and fought the match out. We maintained our pressure on Red Hill however with many unsuccessful attempts to score we were unable to take full advantage of our opportunities. We did improve our own score against Red Hill since our last encounter, which is a great indicator of our continued efforts to improve. We kept our heads high and played with integrity sticking to our team values. Next week we will strive to further goals, in particular valuing possession and using the ball effectively into the goal ring.
The Tyabb girls are a very strong and our next challenge on their home turf.
***
THIS Saturday sees the Hastings FNC playing away against Tyabb FNC for the George Slocombe Shield in what is shaping as a very important game. Lets make sure we all get to Tyabb to support all teams. Games start from 10.00 am this Saturday the 8th August, 2015.
Go Blues (The Family Club)