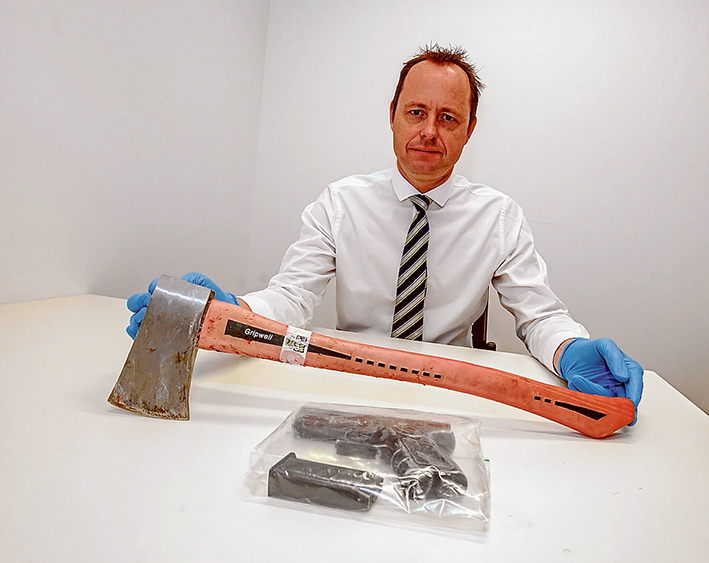 FRANKSTON Embona Armed Robbery Squad detectives are seeking public help in finding the rightful owner of an axe allegedly used in violent robberies at two peninsula 7-Eleven service stations late last month.
They believe the axe was stolen in a previous aggravated burglary and used to commit other offences. Finding its owner could help them in their inquiries, they say.
The axe and a handgun were allegedly wielded by two balaclava-clad offenders arrested and charged with armed robbery and car theft last week over the raids which terrorised lone store attendants in the early hours of Wednesday 29 July.
In the first robbery, at 3.07am, the axe wielder is shown on CCTV footage jumping onto the counter and climbing through security wire, while the gunman stands in the customer area, pointing his gun at the attendant as well as a customer, crouching on the floor between shelving and a freezer. 
The bandits ransacked cupboards and filled up a bin with cigarettes and cash from the till.
The axeman is then seen smashing a glass door between the customer area and the counter and forcing the attendant to lie on the floor of the customer area. The gunman also appears to threaten the customer, still crouching on the floor.
The same offenders are also charged with the 3.30am armed robbery at the 7-Eleven service station, Point Nepean Rd, Dromana. In the similar raid, the lone male store attendant was confronted by three offenders, one with a handgun and the other with an axe. Two offenders again went straight to the counter and climbed through security wire.
With the gun pointed at his head the attendant was pushed into the staff area and forced to open the till. The offender with the axe smashed a window near the till and stole an undisclosed amount of cash. The other two offenders used a bin to carry off their haul.
The one with the axe – described by police as the "most volatile and violent" of the three – smashed a computer monitor in the manager's office, struck the wall and again hit the window. They said the offender with the firearm appeared "more in control" throughout both incidents.
Detective Sergeant Alistair Hanson, of Frankston CIU, said six offenders – out of seven suspects – had been arrested over the robberies and each charged with two counts of armed robbery and two of car theft.
They include:
A 19-year-old Dandenong man who was also charged with aggravated burglary and car theft in Mt Eliza on Monday, as well as a number of aggravated burglaries, vandalism, and car thefts in Burwood, Brighton and Cheltenham. He faced Melbourne Magistrates' Court on Tuesday and was remanded to reappear on 23 October.
He, and a 15-year-old Keysborough boy who was also charged with car theft and bailed to appear at Dandenong Children's Court next month, both face 28 counts of criminal damage relating to the smashing of 20 car windows at Cheltenham late July causing $25,000 damage.
The pair is alleged to have used golf clubs and a hammer to damage the cars parked in neighbouring streets during the 4-5am vandalism spree, described by a Kingston detective as "mindless vandalism".
A 20-year-old Dandenong man who was remanded in custody to appear at Melbourne Magistrates' Court in October;
A 17-year-old Maidstone youth who was also charged over four armed robberies at Hawthorn, Alphington and Ascot Vale, and a carjacking at Dandenong. He appeared at Melbourne Children's Court on Tuesday and was remanded to reappear later this month.
An 18-year-old Mulgrave man who was remanded in custody to appear at Melbourne Magistrates' Court in October.
A 17-year-old youth, of no fixed address, who was remanded in custody to appear at Melbourne Children's Court later this month.
The six arrests form part of a bigger picture, with up to 25 offenders nabbed over a spate of aggravated burglaries, vandalism, thefts from and of cars, deceptions, petrol drive offs and armed robberies across Melbourne's southern suburbs in the past few weeks.
"They knew each other and were acting together; there was definitely a level of planning and organisation," Detective Hanson said.
The five Frankston Embona detectives are chuffed with their efforts to crack the 7-Eleven armed robberies so quickly. "Yes, we are pleased, but we have received lots of public support," he said.
"People sometimes become complacent about crime but, when it's violent and in their patch, they say, "Enough is enough" and get involved. That's been a great help to us."
Detective Hanson said the fact that the same offenders allegedly committed crimes in Kingston, Boroondara and Casey, as well as on the peninsula, also served to unite detectives from these disricts in their efforts to catch the offenders.
"It was a very good joint effort by neighbouring CIUs," he said.
First published in the Southern Peninsula News – 11 August 2015