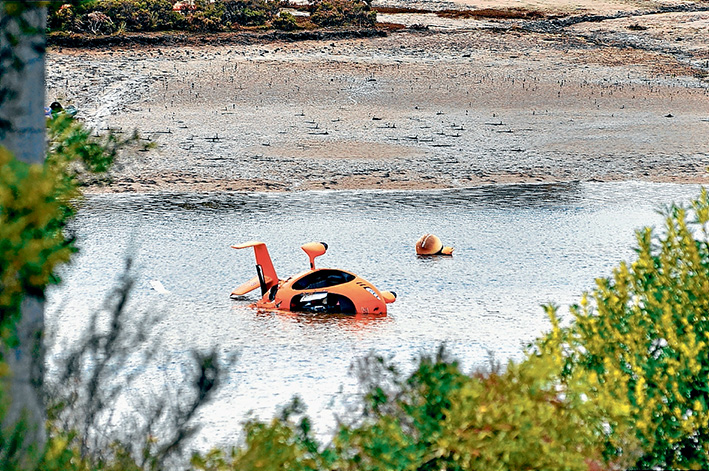 PENINSULA Aero Club members are mourning the loss of a pilot who died Sunday when his twin-seater gyrocopter crashed at Cannons Creek.
The name of the man, 59, of Patterson River, had not been released by police when The News went to press.
Club president Peter Bernardi described the fully qualified pilot as "a gentleman" and said "the club's thoughts are with his family". He had been a member since 2011.
The small craft went down into shallow water at Rutherford Inlet, between Warneet and Cannons Creek, just after midday. Witnesses reported the sound as "like a gunshot" and "like breaking glass".
The exact cause of the incident is being investigated.
The pilot died at the scene while his passenger, a 37-year-old man from Hampton Park, was airlifted to the Royal Melbourne Hospital.
A gyrocopter uses an unpowered rotor in autorotation to develop lift, and an engine-powered propeller, similar to that of a fixed-wing aircraft, to provide forward thrust (Wikipedia).
Detectives are appealing for witnesses to the crash which occurred when the $100,000 aircraft clipped power lines on its way from Tyabb to Tooradin. The line is reportedly 22.5 metres above the high tide mark. Power to the area was cut until late Monday.
Peninsula Aero Club vice-president Jack Vevers said the gyrocopter – usually very safe – was the only one at Tyabb. He said the pilot was a "competent and well-respected guy".
"He had all the right credentials and has shown excellent airmanship."
Casey Detective Senior Sergeant Terry Rowlands said that despite the threat of electrocution from the dangling power line, several local residents had not hesitated in trying to rescue the crash victims.
"They were heroes," he said.
The men waded and paddled a kayak to the stricken craft and pulled the injured passenger – who was calling for help – aboard. His condition was described on Monday as "serious but stable".
Devon Meadows CFA captain Andrew Swain coordinated efforts between Pearcedale and Langwarrin brigades. He said crews had stripped off to wade in to help the rescuers. "It was a good effort," he said.
Police spent about 10 hours at the scene before taking the gyrocopter to Cranbourne police station.
Casey Crime Investigation Unit is preparing a report for the Coroner.
Any witnesses should call 9705 3114.