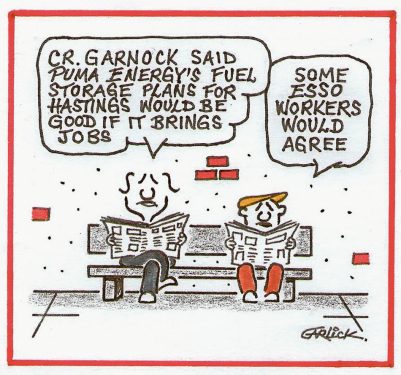 DESPITE buying land at Hastings, Puma Energy says it is conducting a feasibility study before deciding on using it for a fuel storage and distribution depot.
No permit applications have been lodged with Mornington Peninsula Shire, although any approval could be required to include detailed traffic reports, flora and fauna surveys, cultural heritage and management plans.
The use of the land for a fuel tank farm would appear to fit In with the state government's stated wish that the Port of Hastings be increasingly used for the import and export of "bulk" goods, such as gas, fuel and, possibly, brown coal.
Puma paid $2.2 million for eight hectares of land In Bayview Rd and is believed to have already holding discussions with Esso Australia about using its Long Island Point jetty to bring ashore its imported fuels.
"Puma Energy can confirm we have purchased eight hectares of land on Bayview Rd, Hastings. This site has the potential to become a fuel import terminal, however we are in the very early stages of a feasibility study and will not be able to confirm the site's use until this assessment has been completed," Christie Patten, of Cole Lawson Communications, told The News.
The Brisbane-based public relations company said it was too early to give details of the size of the proposed tank farm or how many ships could be expected to bring fuel to the depot.
Neither the Hastings Port Development Authority or Esso will say if they have been in talks with Puma Energy.
"We don't currently have an application in Bayview Rd but have an application at 5 Barclay Cr (which is off Bayview) to extend an existing fuel depot," the shire's statutory planning manager Niall Sheedy said.
"An application of his nature [Puma's] will be advertised and referred to a number of internal departments for comments as well as WorkCover."
An industry insider says Esso has been approached by Puma which will need a pipeline to it's the tank farm.
The jetty used by Esso is owned by the state government but Esso would need to be fully involved in the proposal. The government also owns the jetty at Crib Point, which Dutch company Trafigura uses to import petroleum products.
At the end of Long Island Drive are two gates – one on Crown land leading to the jetty and one at the entrance to Esso.
An industry insider told The News Puma would likely bring in to Western Port 15 ships a year of about 40,000 tonnes each, a ship every 24 days.
Taking each load of fuel from the proposed tank farm on Bayview Rd opposite BlueScope's mill would require 1000 B-double trucks, each carrying about 40 tonne. There would be 30 truck trips each day to and from Hastings with the vehicles likely to use Frankston-Flinders Rd between Hastings and the Baxter on-ramp of Peninsula Link. This would take the trucks through Tyabb and Somerville.
The state government is already being pressured to complete the duplication of Western Port Highway to take industrial traffic off Frankston-Flinders Rd, which passes through several residential and shopping areas. The road is single lane each way between North Rd at Pearcedale and the roundabout just north of Hastings.
Puma arrived in Australia about three years ago. The Swiss company has embarked on an expansion program that will see it spend up to $250 million on storage and distribution infrastructure as the major oil refinery companies withdraw from Australia.
Puma's major shareholders include Trafigura, and Angola's national oil company.
Mike Hast and Keith Platt