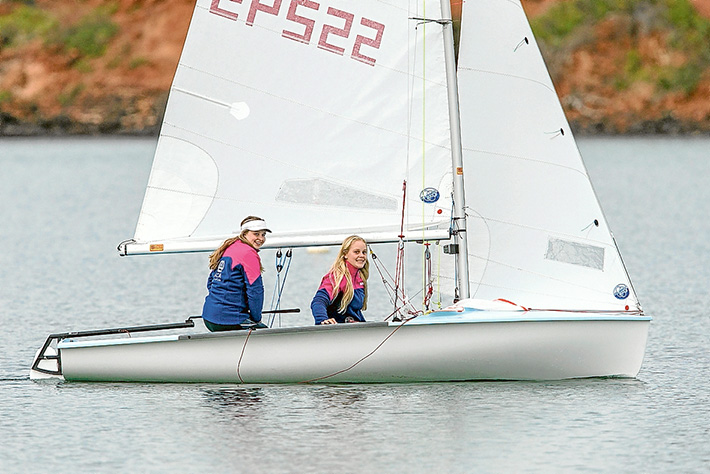 ASPIRING yachting champions and Mornington Yacht Club members Sophie Jackson and Ella Sharman, both aged 15, have been training three days a week on Port Phillip this winter.
They are hoping to gain an edge on rivals who train only in spring and summer as they aim for the top in world yachting.
The girls have already won state championships and have teamed up to sail in the 420 Class at international level.
Inspiration for Sophie, who attends Toorak College, and Ella Sharman, who is at Frankston High School, comes from one of their role models, another Mornington Yacht Club member, 30-year-old Sophie Ciszek of Mornington, known by yachting's elite for her work on maxis such as Wild Thing, Brindabella and Shockwave.
Ms Ciszek is a professional yachtswoman who was a full-time crew member for the Open 60 Hugo Boss until 2012. She was once the only paid crew member aboard former Mornington sailor Grant Warrington's Wild Thing, a Sydney-Hobart winner – and loser, when the maxi lost her keel off NSW a few years ago.
Ms Ciszek has sailed more than 60,000 nautical miles and has competed in four Sydney-Hobart races.
She made headlines in international yachting circles late last year after sustaining a ruptured herniated disc about halfway through the 30-day second leg of the Volvo Ocean Race around the world aboard Team SCA with its all-woman crew, the first for 12 years. Now yachties know how tough she is as Ms Ciszek suffered nearly two weeks of constant pain – and lack of sleep – that no painkiller could block.
Ms Ciszek told a yachting website: "The pain got so bad at times that my eyes would start watering and I'm not one to sit in my bunk and cry – but it did happen."
Back on land in Dubai, an MRI revealed the disc was blocking about 80 of the nerve. She had surgery, months of rehab back in Mornington, and rejoined her team to finish the event, which saw seven Volvo Ocean 65s race for 74,000 kilometres over nine months.
Sophie and Ella have new sailing gear courtesy of Sophie Ciszek and her SCA team, which donated $1500 and clothing to the club last week to help promote girls in sailing.
The club's Rear Commodore Chris "Jacko" Jackson said the club already had a high participation rate of female sailors from six to 75 years of age and the donation would "help get more females into a healthy, lifelong sport".
Mornington has learn-to-sail courses for children and adults.