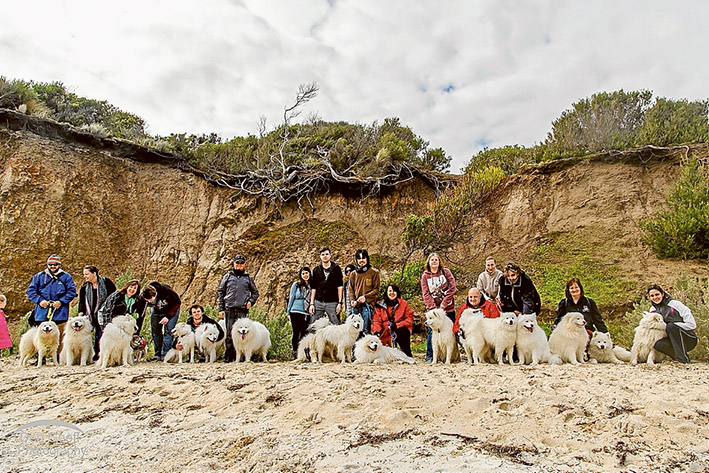 SAFETY Beach residents could have been forgiven for thinking they were in the Yukon on Sunday last week when 22 samoyeds came strolling along the beach.
Along with a Jack Russell and dalmatian they posed for a group photo on the jetty and then walked to the Tassels Cove off-leash beach for a play and run with the locals, before walking around Martha Cove boardwalk.
The occasion was a monthly pet walk by members of The Samoyed Club of Victoria which visits different locations in Victoria. The aim is to promote the breed and to encourage socialisation and education among pet owners and the public.
Previous walks have taken in the Botanic Gardens, a ferry to Queenscliff, and parts of Melbourne. Also, the samoyed Santa sled team tows Santa through shopping centres at Mornington and Mt Eliza and childcare centres and nursing homes around Melbourne each year. Last year members participated in the "I Gave a Woof" fundraiser at Rosebud, a fund raising effort by The Angel Op Shop's Pink Angels.
Club members say samoyeds have lovely temperaments and patiently allow young children to snuggle and cuddle them.
They were originally used to hunt seals, herd reindeer and haul sleds for the Samoyede people of north western Siberia, and were treated as members of the family.
For more information about the club's monthly pet walks, puppy inquiries or general information, visit samoyedclubvictoria.com
All samoyed owners are welcome to come along and join the fun. 
First published in the Southern Peninsula News – 18 August 2015