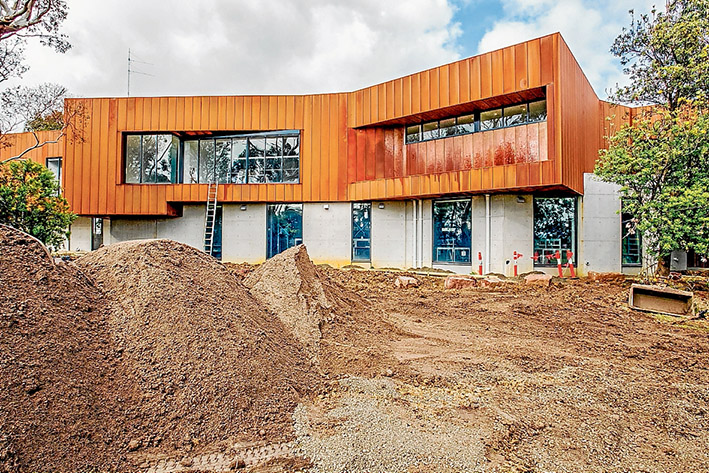 THE new Somerville police complex – not to be confused with a police "station" – is nearing completion but neither police nor contractors could set a finish date last week.
The $16.3 million two-storey building has been dogged with controversy since its inception over fears it would strip front-line police from stations on the southern peninsula and that it will not be open to the public.
An intense public meeting attended by 150 people at Rosebud public hall in October was told by Police Association secretary Ron Iddles and president John Laird that the complex should operate as an operational police station rather than "being filled with specialists".
Their concerns were that residents would have to travel to Mornington or Hastings to see police.
Mornington MP David Morris, deputy of a parliamentary public accounts and estimates committee, which assessed the new complex, told The News in June: "If you happen to live in Somerville, you need to drive to Mornington or Hastings to get police advice or police assistance, even though there is a brand-new $16.3 million police station in Somerville.
"Not unnaturally, the Somerville community are not particularly happy about that. I think it would almost have to be the first brand-new police station to open without access to the public in the entire history of this state."
While the building at the corner of Eramosa Rd West and Coolart Rd does not have a front counter – which would require manning by four full-time officers – it will be staffed by police whose office presence is regarded as secondary to their field work.
Detective Inspector Shayne Pannell, who was local area commander at the time the new centre was mooted, will be in charge. Attending a site meeting on Thursday, he said it was never envisaged that police on-the-beat would be moved to the new 90-plus-staff headquarters.
Rather, it will be home to highway patrol units now based at Rosebud, Hastings and Carrum Downs, and crime investigation units at Hastings, Mornington and Rosebud, with parking for 24 police cars.
"The complex will provide state-of-the-art crime scene facilities, such as garages, hoists and equipment, and the combination of skills from different departments all in the one office will help us provide a strong divisional response," Inspector Pannell said.
"There will not be counter service as such but, if people have an appointment, they will be granted access."