PENINSULA LEAGUE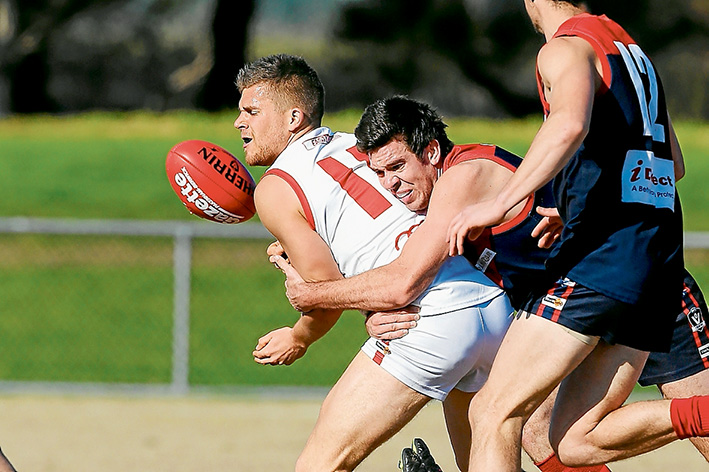 FRANKSTON YCW is slowly sucking the life out of Peninsula Division football after disposing of yet another premiership aspirant on Saturday in Mornington.
The game started in tight fashion but the home side gained the ascendancy midway through the second quarter and collectively pushed their feet on the throats of their opponent for the entire second half, eventually winning 17.12 (114) to 7.7 (49).
The Stonecats opened up a 17-point break at half time after trailing by the smallest of margins at the first change.
The lead should have been so much more than three goals at half time, given the Stonecats had squandered some opportunities (4.7 to 2.1) in the second quarter.
Mornington would have gone into the rooms at the long interval believing that if they could tidy some things up, that they were well in the contest.
Wrong! Frankston YCW came out and booted six goals to one in the third and the game was all over at the final interval (12.10 to 5.4).
Again, the Stonecats had sucked the life out of an opponent.
Scott McLeod with three goals was at his very best. He is a powerful player with great endurance and an undeniable appetite for the contest and victory.
Anthony Barry was sensational again from half back, setting up the defensive structures and driving his team into attack.
Ben Tellis has been talking about the fact that this is his last season. When you're playing this brand of football, in this side, the last thing 'BT' should be thinking about is hanging up the boots.
David Bodley was the go to forward, finishing with five goals, while Craig Nankervis is grossly underrated. Nankervis wins his own footy, is decisive with the use of it and gets it plenty of times each match.
Frankston YCW doesn't have a weak link. Ricky Morris returned in the reserves yesterday and kicked a goal. 'Magic' is the obvious replacement for Ben Buckley, who tore his ACL against Edithvale in the dying minutes of the match last week.
The Stonecats have proven that they are significantly better than any other side in the competition. In fact, they are plus-70 points between their points for and points against on average this season. That's more than 10 goals better (on average) than any other side.
If Peninsula Division supporters are hopeful of an exciting finals series, they better change their mindset.
Frankston YCW coach Scott Mathers doesn't agree.
"You're right Toey, at times, you sit back as coach of this team and admire what they are doing on the field," Mathers said.
"However, if you let your guard down for any period of time, then the opposition can make life difficult.
"Anything can happen on any given day and whilst we're in good form, that can change pretty quickly if our mindset and application isn't right," Mathers said.
Mathers agreed that Ricky Morris was an obvious choice to replace Buckley.
"Magic has had some issues getting his body right this season and he's got a lot of work to do. He needs a lot of match condition and we need to be confident that his body is right.
"No doubt Ricky is a very good player but he's coming from a fair way back. Our depth is good at the moment and there are a number of players putting their hand up," Mathers said.
Pines booted 11 goals to one in the final quarter to belt Seaford by 66 points on Saturday.
In an entertaining, tight contest all afternoon, the Pythons put on a clinic in the final 30 minutes to seal the match with some blistering footy.
Guy Hendry and Aaron Edwards booted seven goals each for the winners while Luke Potts showed once again that he is a class above at this level.
Aaron Walton was equally as impressive for Seaford with eight goals, while Jason Tendler also played a significant role with four majors.
The score was 14.8 (92) to 14.7 (91) at three quarter time. The final score was 25.15 (165) to 15.9 (99).
Edithvale-Aspendale bounced back from its horror defeat last week at the hands of YCW to beat Bonbeach by 22 points.
Wayward kicking by the Eagles (10.15 to 8.5) kept the Sharks in the contest right to the very end on the scoreboard, however, in general play, the Eagles were superior.
Matthew Clark was absolutely superb once again for the winners while Tim Mavric back in the line-up made a significant difference. Aaron Pawel was also back in the ruck for the visitors, which again helped with their structures.
Darcy Warke was again available from the Stingrays and was lively forward of centre with four goals.
Chris Bryan played arguably his best game for Bonbeach with three goals, while Gary Carpenter was at his best yet again.
Langwarrin controlled its match all afternoon against Chelsea, winning comfortably 22.13 (145) to 11.12 (78).
For the second week in a row, exciting forward Kieran Albanese dominated in the front half, finishing with six goals in his best game for the club. Former junior teammate Blake Harkness was also super impressive while Rikki Johnston was again at his absolute best.
Johnston is a short-price favorite to win the club's best and fairest after former Dromana premiership teammate Liam Hogan took the title last season.
Jason Clark kicked four goals for the Seagulls while Brad Clark was also a strong performer through the middle of the ground.
Mt Eliza spearhead Justin Van Unen is just five goals away from kicking 100 after booting eight goals in his team's 26.21 (177) to 6.4 (40) victory against Karingal.
The Mounties started with eight goals to zip in the opening quarter and finished in the final term with 10 goals to one.
Rohan Heasley and Ben Landry dominated through the middle of the ground for the winners.
Hadley Tomamichel and Tom Wilkinson picked-up the votes for Karingal.