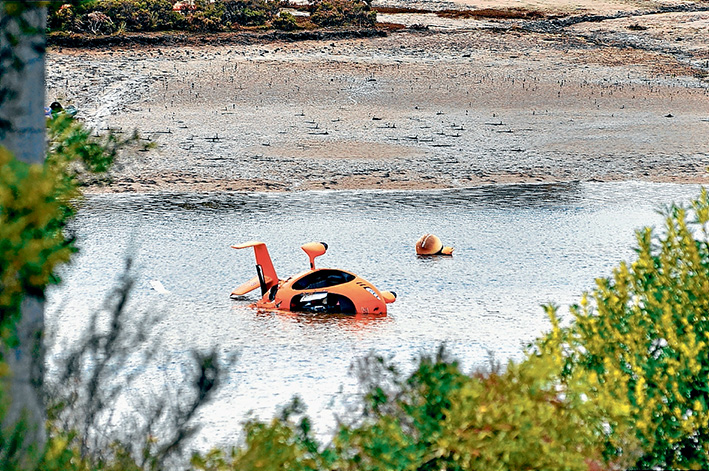 POLICE are investigating whether any video footage was taken by a gyrocopter pilot before his fatal crash at Cannons Creek on Sunday last week.
They are also seeking anyone who may have witnessed or filmed the incident.
Carl Solomons, 59, of Patterson Lakes, died when his Cavalon twin-seater aircraft hit power lines and crashed into shallow water on a flight between Tyabb airfield and Tooradin.
His passenger, 37, of Hampton Park, was taken to the Royal Melbourne Hospital with serious injuries.
Neighbours waded and paddled out to assist the stricken men despite the risk of electrocution from the fallen power lines, prompting Casey CIU Detective Senior Sergeant Terry Rowlands to describe them as "heroes".
Minimum flying heights for gyrocopters in Australia are 300 feet – much higher than the power lines – but Australian Sports Rotorcraft Association president Paul Campbell said "extenuating circumstances, such as engine problems or illness to himself or his passenger" – may have necessitated the lower altitude.
Mr Solomons was a member of the association as well as Peninsula Aero Club's only gyrocopter pilot. He regularly posted videos of his flights online, raising speculation that he may also have recorded his last flight.
Detectives say videos "are one of the lines of inquiry that need to be canvassed". Any footage found may contribute to finding the cause of the 12.15pm crash.
In one recent flight, Mr Solomons appears to be flying at low altitude over beaches at Inverloch and Venus Bay. Attached dialogue suggests he was "trying to warn swimmers of five rips" in the area. A post mortem last week was reportedly assessing whether the grandfather was experiencing any significant health issues in the lead up to the crash.
Casey CIU can be called on 9705 3111 or Crime Stoppers 1800 333 000.