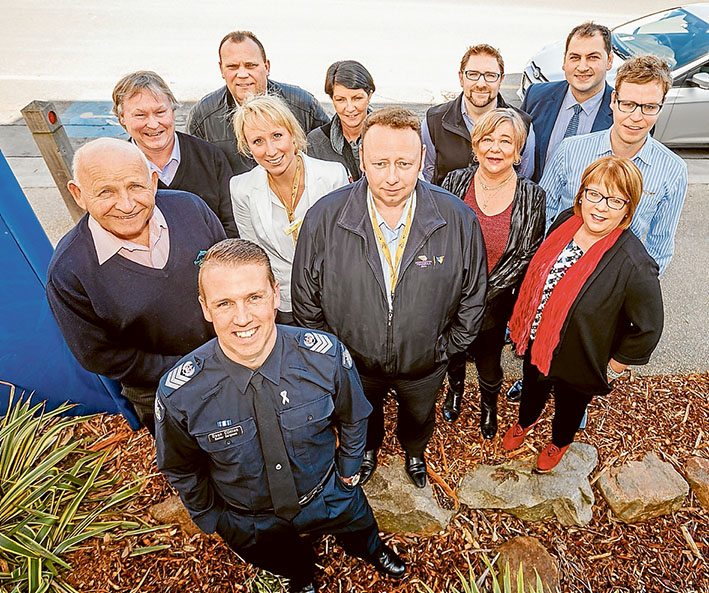 POLICE, security companies, retailers, major shopping chains and municipalities joined forces last week to plan how to better combat crime in Frankston and on the Mornington Peninsula.
The Frankston and Mornington Peninsula Crime Prevention Alliance – the first of its kind in Victoria and running since February – aims to find ways to cut anti-social and criminal behaviour around public places and shopping centres.
This will be done by "sharing good practice and crime prevention strategies", according to its initiator, Senior Sergeant Dean Clinton, of Frankston's Proactive Programs Unit.
The alliance's 16 members met at Mornington Peninsula Shire's Queen St offices to discuss potential anti-crime themes and cross-match tactics and strategies.
Sergeant Clinton said the alliance wanted to empower retailers and shopping centre managemers to adopt their own crime prevention plans over 12 months and to take action to prevent crime.
"We meet on a regular basis and share ideas and gather information to help spot trends in offender behaviour," he said.
"The idea is to give businesses the tools and knowledge to implement better prevention measures against common crimes, such as shoplifting, theft from motor vehicles, and property damage.
"We're also engaging with contractors in industrial estates and retailers in shopping strips to implement similar preventative strategies.
"We share ideas that are proven to reduce or prevent theft – GPS tracking, positioning of warning signs and security cameras, marking high risk items and training staff to be on the lookout for suspect customers.
"Something as simple as implementing a Crime Stoppers board can lead to a drop in crime rates as it shows repeat offenders that they've been spotted."
Last year, about 1400 thefts from stores were reported in the Frankston and on the peninsula.
"The flow-on effects can dramatically impact perceptions among the community and people may choose to avoid certain areas as a result," Senior Sergeant Clinton said.
"We're all responsible for helping to prevent crime in our community and by working together we can work smarter to help make a difference."
Karingal Hub general manager Bev McCaughey said the aim of the alliance was to get a variety of community movers and shakers "out of our silos and networking with each other".
"We are able to absorb new ideas and initiatives which we are able to use to make the community safer," Ms McCaughey said.
One initiative is Look, Lock and Leave, which reminds and encourages shoppers to lock their cars and either remove or stow valuables after parking their cars. "We want people to be more conscious of their surroundings and not complacent," she said.
"We will devise themes throughout the year all with a community safety aspect and everyone will take them back to their precincts to promote a greater awareness."
Frankston Business Chamber executive officer Karin Hann said the "constructive" meeting discussed what business could do to reduce, for example, illegal rubbish dumping. "We report to each other on areas of concern, and we then pass this on to our neighbours so that they are also in the loop," she said.
"We also discuss how retail customers can make themselves and their property safer. We all have this perception that 'it won't happen to us', but, of course, it could."
Senior Sergeant Clinton said extra CCTV cameras to watch over shopping centres and industrial estates to combat graffiti, bollards to help prevent ram-raids at shopping centres, and greater out-reach by youth workers, were examples of strategic thinking to benefit the community.
So was the tactic of having Karingal Hub loss prevention officers wear hi-vis vests – "making themselves obvious to thieves" – to deter shoplifters.
"There's a flow-on effect: If people feel safer in a shopping centre they will be inclined to stay longer and spend more money," Senior Sergeant Clinton said.
"And, when we have people working together to prevent these issues we get better results – rather than them working alone."