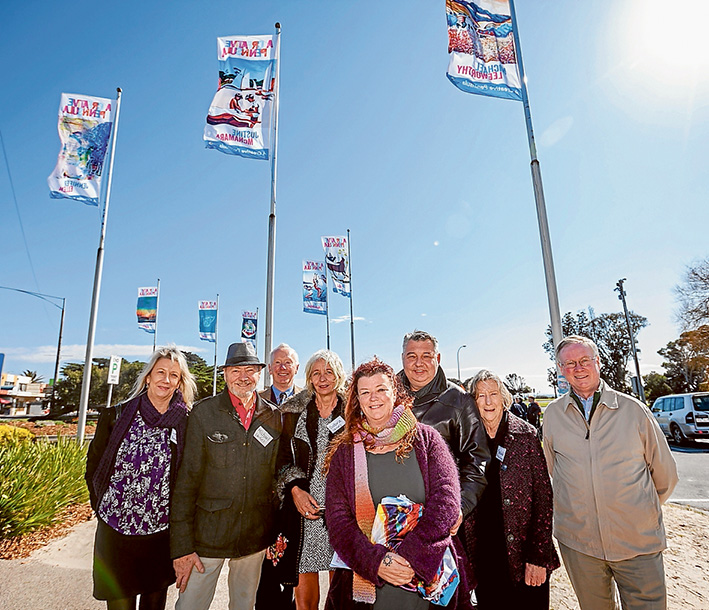 TWENTY-three flags are now flying at Rosebud, Rye and Sorrento as part of Mornington Peninsula Shire's A Creative Peninsula arts flag project.
The mayor Cr Bev Colomb said images on the flags reflect the artists' lives on the Mornington Peninsula.
"The art flags celebrate our creative and engaged communities, and feature works by six artists who call the peninsula home – and their muse," she said.
Artists whose work is on the flags are Justine McNamara, Miodrag Jankovic, Sharron Okines, Michael Leeworthy, Jennifer Ellen and Sabra Lazarus.
The shire says the flags will enhance the vibrancy of the three towns, adding colour and art and encouraging greater pride within the communities.
"Council and artists worked closely with chambers of commerce and businesses to bring the project to life and I am so pleased to see the flags flying to promote art and creativity within our community," Cr Colomb said.
The flags have been installed at the corner of Boneo Rd and Nepean Highway, Rosebud, at the entrance to Rye pier on Point Nepean Rd and along Ocean Beach Rd, Sorrento.
Cr Colomb said the project would be "progressing" to Blairgowrie, McCrae, Dromana and Safety Beach later this year.
First published in the Southern Peninsula News – 25 August 2015