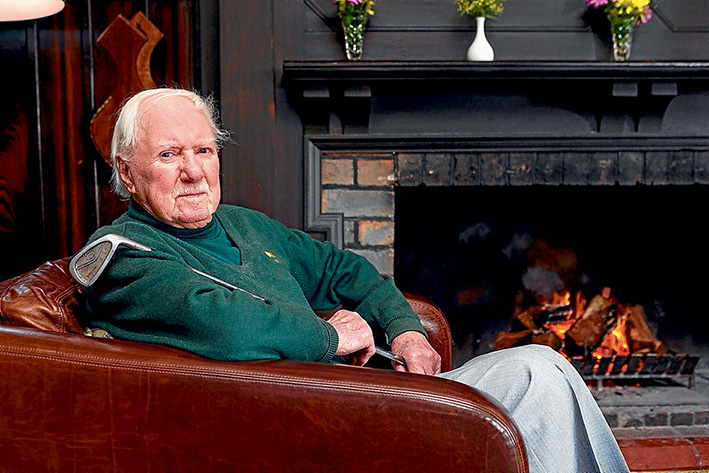 PLAYING golf has "kept me alive", says Mt Eliza enthusiast Ralph Godfrey, who is about to celebrate his 100th birthday.
He likes nothing better than spending time each week on the course – sometimes playing three rounds with his mates at Frankston Golf Club in Golf Links Rd.
"I always look forward to playing golf," Mr Godfrey said.
"I like meeting people and I've found that hitting a little white ball around the course for two and a half hours makes me forget any problems."
After losing his wife in 2008 he maintains he would not be alive today if it were not for his love of the game and the deep friendships he has with club members.
A member since 1982, Mr Godfrey has won two club Eclectic competitions and, when a mere 90, was good enough to win the John Robinson Trophy. This came on top of a hole-in-one he scored while playing at Seabrook Golf Club, Wynyard, Tasmania, in 1956.
The old soldier, a lieutenant in the Second 21st Battalion, better known as Gulf Force, was a prisoner of war for four years after the Japanese overran the island of Ambon in World War II. Mr Godfrey believes he may be one of three surviving members of the battalion of 1031 men, of who hundreds were executed by the enemy.
The memories of those dangerous days and his strength of commitment run deep and have led Mr Godfrey and the other survivors to return to Ambon to help the islanders, providing generators, electrical and hospital equipment and water pumps. This goes some way to adequately thanking them for their "behind the lines" assistance in helping the AIF soldiers imprisoned on their island.
But the terrors of those fateful days are long gone for this convivial sportsman. He is looking forward to enjoying his 100th birthday lunch with golfing friends on Tuesday 13 October, as well as the company of his family and especially his daughter, Penny, who is coming from South Africa for the occasion.
"The event is in support of his great achievement in attaining 100 years of age and also surviving the inhumane treatment he suffered during his wartime imprisonment," long-time friend and playing partner Alan Glover said.