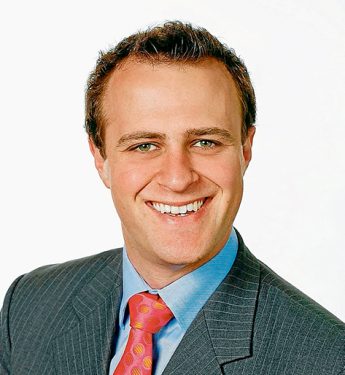 A HIGH-PROFILE federal government appointee with family links to the Mornington Peninsula is set to address a Liberal Party event in Mt Martha early next month.
Australia's Human Rights Commissioner Tim Wilson, who makes regular media appearances on shows such as the ABC's Q&A and Channel Ten's The Project, will be guest speaker at the Briars Historic Homestead in Mt Martha and it is a homecoming of sorts for the man dubbed the "Freedom Commissioner" by federal Attorney-General George Brandis.
Mr Wilson lived in Mt Martha before heading for the bright lights of Melbourne and is a former student of The Peninsula School.
His mother is Linda Morris, wife of Liberal Mornington MP David Morris, and the 'Advanced Human Rights in Australia' event at The Briars features both Mr Morris and Mr Wilson on promotional material.
"It's not a fundraiser," Mr Wilson said.
"I speak to a lot of political parties because political parties are where you often find people who are interested in human rights and part of my role is human rights education so I try to do that as often as possible."
Mr Wilson has spoken at events hosted by The Australian Greens and Liberal Democrats parties during his time as Human Rights Commissioner.
The former research fellow at right-wing think tank the Institute of Public Affairs resigned as a Liberal Party and IPA member when contentiously employed by the Abbott government as Human Rights Commissioner early last year.
He did admit to bias last week.
Mr Wilson said he agreed to speak at the Mornington electorate conference hosted by Mr Morris "because my mother asked me".
"She asked me to come down and speak … I'll confess my mother does get better treatment than anyone else."
The Human Rights Commissioner will talk about freedom of speech, religious freedom and same-sex marriage as part of his talk at the Liberal Party event in Mt Martha.
He makes it clear to political parties that any forum he speaks at not be a fundraising event and a modest fee to cover any necessary costs only is allowed. Any event must also fit in with existing Human Rights Commission travel unless the political party is prepared to cover his travel expenses.
Mr Wilson has a holiday home on the peninsula.
"I actually head down to the peninsula regularly," he said.
The Advanced Human Rights in Australia event will be held at the Briars Historic Homestead, 450 Nepean Hwy, Mt Martha on Monday 7 September, 6.30pm.
Tickets $20 each.
Non-Liberal Party members welcome.