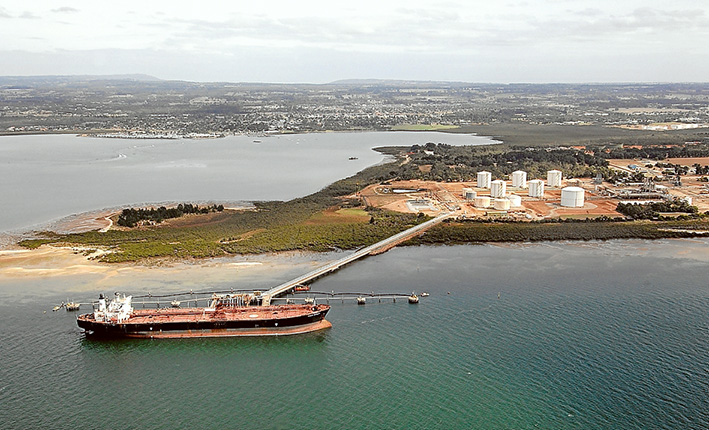 ESSO is edging closer to extracting gas from a new field in Bass Strait, guaranteeing the long-term future of its Long Island Point fractionation plant at Hastings.
The good news was delivered at Esso's Western Port community and stakeholder liaison dinner in Hastings last week, an annual event that allows the energy company and members of the Western Port community to mingle.
After char-grilled chicken or porterhouse steak at MaQuay restaurant (with its view of the verdant Hastings foreshore and Esso's Long Island Point (LIP) plant just across the water), the chairman of Esso's parent company ExxonMobil Australia, Richard Owen, told about 80 people the ExxonMobil–BHP Billiton joint venture in Bass Strait had recently finished drilling the Turrum gas field.
"We're spending $5.5 billion offshore and onshore to bring gas from the Kipper Tuna Turrum project," he said.
The so-called KTT field contains the largest volume of uncontracted gas in Australia and is the biggest potential provider of gas for Australia's east coast market, with enough product to head off predicted supply shortages as global demand continues to exceed supply.
Mr Owen said the investment included $1 billion being spent at its plant at Longford near Sale in Gippsland. "This doesn't increase Longford's capacity but allows us to treat the KTT gas before putting it into the plant," he said.
Gas from the new field would have to be extracted from deeper than ever before, from smaller pockets and it contained more contaminants than gas previously extracted from Bass Strait, making it more costly.
In October or November the company would start building a 183-kilometre pipeline between Longford and Hastings, replacing two built more than 40 years ago.   
The so-called Esso Pipeline Replacement Project is a massive project that required the company gaining permission from about 400 landowners to use their land.
Mr Owen said the company was planning for a future with a wide range of oil prices. "We've seen the price of oil range from $100-120 last year to $45-55 now," he said.
The chairman said Bass Strait oil and gas had provided 10 per cent of Commonwealth revenue during the 1970s. "We take Bass Strait for granted sometimes" but it was as important as other major projects such as the Sydney Harbour bridge, Snowy Mountains scheme and Ord River scheme.
LIP plant manager Steve Williams told attendees the forerunner company of ExxonMobil had been in Australia for 120 years, it was 50 years since the first gas flowed from the Barracouta field in Bass Strait, and 45 years since LIP opened in 1970.
He said the KTT project provided 2000 full-time jobs and $3 billion had been spent so far.
At LIP, Esso had refurbished gas fractionation "trains" that produce ethane, propane and butane, and was installing a system to remove mercury from water in Bass Strait gas and oil, which when completed would include a water tank, pumping and injection system, pipes, and a rainwater collection system to separate rainwater from so-called "produced formation water" that comes with the gas and oil. It is in the tank farm area and due to become operational in "two to three months" although it would not be needed until KTT gas started to flow, Mr Williams said.
Mercury in the produced formation water would be injected into crude oil where any remaining mercury would be removed by refineries.
Esso is also refurbishing its crude oil storage tanks, which will involve jacking up the sides and replacing each tank "floor". This would take several years, he said.
Compressors that converted gas to liquid were being upgraded, too. Mr Williams said the improvements would reduce the amount of gas it had to burn off through its two flare stacks (sometimes a prominent feature of the Hastings night sky). "We want to sell it not flare it," he said.
Mr Williams said the plant had a good safety record with no injuries recorded in more than two years – "not even a paper cut".
When taking questions, Mr Owen stressed the importance of STEM education – science, technology, engineering and mathematics – when answering a question from Somers Primary School principal (and science teacher) David Ingham.
"It is critically important to our society to ground it in scientific method, so we can all talk a common language," Mr Owen said.
Responding to a question about women in senior roles at Esso/ExxonMobil, the chairman said women occupied several seats on the small board. "It varies between 25 and 50 per cent." He said the company was "encouraging women into vocational studies programs and graduate programs".
"We have a staggeringly low number of women in engineering in Australia, 10 per cent, and we'd like to see this rise to 30 per cent, 50 per cent," he said.