HASTINGS FNC – By Phil Stone, club president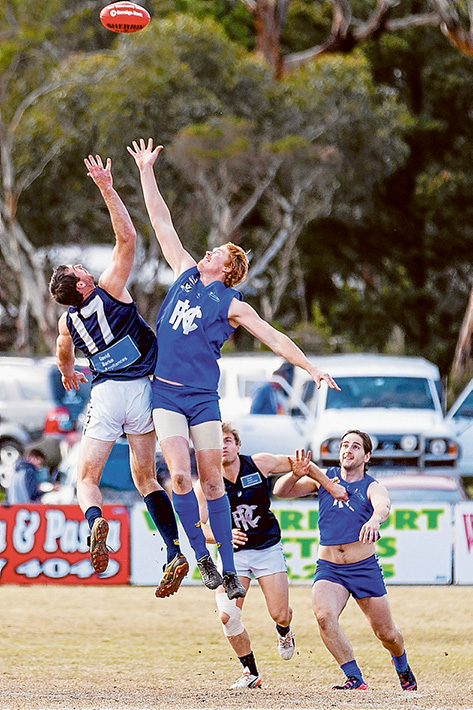 THIS weekend saw your Hastings Blues take on the high flying Rosebud FNC at Hastings, in what loomed as the match day of the day status.
But unfortunately only one side turned up to play in the senior game which resulted in a very ordinary loss on a day that started with so much hope.
However all is not lost as we were able to stay inside the top five, finishing a very creditable fourth.
The club is now in the fantastic position of playing senior finals for the first time in three years.
The club, its players, members and supporters and in particular our wonderful sponsors, we thank you for your commitment in season 2015.
We are all absolutely delighted to be heading down to Rosebud Olympic Park next Sunday to take on Red Hill with the game schedule for 2pm. It should be a great game of local football with your Hastings Blues senior side looking to bounce back and play the type of football that we have come to expect from them; hard uncompromising with no quarter given.
Bring on next Sunday and let's make sure we get a huge sea of blue to cheer the boys on!
Toot, toot. All aboard the Hastings Train.
Seniors
I would like to apologise for myself and the the playing group's performance on the weekend. It was totally out of character and not what we stand for as a group.
We must move on now. We have finished fourth on the ladder and are playing finals next week which is what we all are aiming for.
It's an exciting time and we look forward to the challenge and know that effort and intensity is a must and no matter what skill level you have you can always control those two things.
Reserves
We played Rosebud in the last game of the year.
We got off to a slow start again and let Rosebud score some early goals to jump us.
Into the second quarter we settled and applied more pressure around the stoppages to even things up and make it a fair dinkum contest.
Into the third quarter and it looked like we were going to get on top of them with some great footy. Kestle and Cave were very damaging around the ground and Kerber was having a great battle with their big forward.
Into the last quarter and the boys really stepped up and applied enormous pressure to win the quarter and finish the game off really well.
Big thank you to everyone that has helped and supported me through all these years of coaching , I've had a great time and made lots of friends for life and I wish the Hastings Football Club all the best in the future. Regards Craig Perrott   
Under 19's (By Aaron Wilson)
Hastings 19's last round encounter with the undefeated Rosebud ended in a tough loss.
After matching them in the first quarter, Rosebud stormed clear in the next three quarters to solidify their finals hopes.
Under 16 players PJ Megee and Paddy Langde had great first up games while Stephen Williams and Kyle Robb also had good games.
Netball Report
Well I'm very pleased to say that C grade finished the year on a high getting their first win for the season. All the hard work we've put in over the season all came together. From start to finish we controlled the match. Abbey Baker was in fantastic form finishing off the defenders hard work by converting our opportunities into goals along with Talia Brouwer and Mel Symington. Brooke Easy was solid in the centre position attacking and defending strongly.
Monique Boer and Courtney Astbury were fantastic once again in defence. Wished I could have given awards to all players as it was great team effort and fantastic to finish on a high.
B grade started very strongly but unfortunately couldn't maintain the form and fell away in the second half. Grace Williams was again fantastic in defence challenging Rosebud at every opportunity.
A grade were very competitive for the four quarters but with the match out of reach in the last quarter we made lots of changes and had some fun.
On a whole we've had a good year building skills and developing friendships and look forward to the 2016 season.
***
Upcoming Functions
Presentation Night 10th November, 2015 from 6.00 pm Call the Hastings Club to book your seat. Vote Count for all sides on the Sunday 27th September, 2015 from 11.00 am onwards Football/Netball vote count.