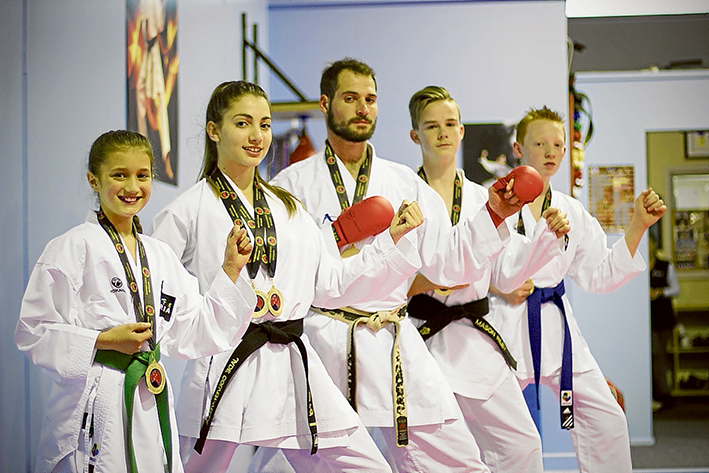 ON the weekend of the 7 -9 of August the Australian Karate Federation held their National Championships in Adelaide. The Victorian team consisted of karate athletes from all over the state ranging in age from nine year old to over forty-five year old divisions.
The Victorian team was a strong one with 12 athletes from the Mornington Ishinryu Dojo.
Fourteen-year-old Jade Colver –Vella, a Padua College student, has now become a four time National Champion and two time Oceania champion. A veteran of the sport at such a young age, she won three gold medals at the competition; female cadet (54kg division) and then the following day took on all the cadet girls in the open-weight division and won gold in that.
Jade's weekend wasn't over yet. She was selected into the female cadet teams and the girls took out the gold in that one also.
Dean Hollowood won gold in the men's 75kg division and also a gold in the men's team event.
Sean Armitage won a gold medal in the male 12-13 years division.
First year athlete on the Victorian Team Ally Lourensz was a star in the 10 years female division winning gold.
This tops off a great year for Ally also winning the Victorian championships and the Australian Open earlier this year.
Mason Riley Won Gold in the cadet male division.
Victorian Coach and chief instructor at the Mornington Dojo Sensei Peter Hollowood said "I couldn't be happier with my athletes this year. Our training for this comp started in the first week of January and my guys haven't missed a beat. They are all true champions".
Others to do well Abbey Power (1 silver, 1 bronze), Zac Andrewartha (1 silver 1 bronze), Harris Walburn (1 bronze), and Kyal Angel (1 bronze).
Coming up for the Dojo champions, Abbey Power has been selected to Compete for Australia at the Commonwealth Karate Championships in India in September. Dean Hollowood has been selected for Australia to represent at the German Open in September.
Jade Colver-Vella, Zac Andrewartha and Mason Riley Have been selected to compete for Australia at the cadet/junior World Championships in Jakarta, Indonesia, in November.