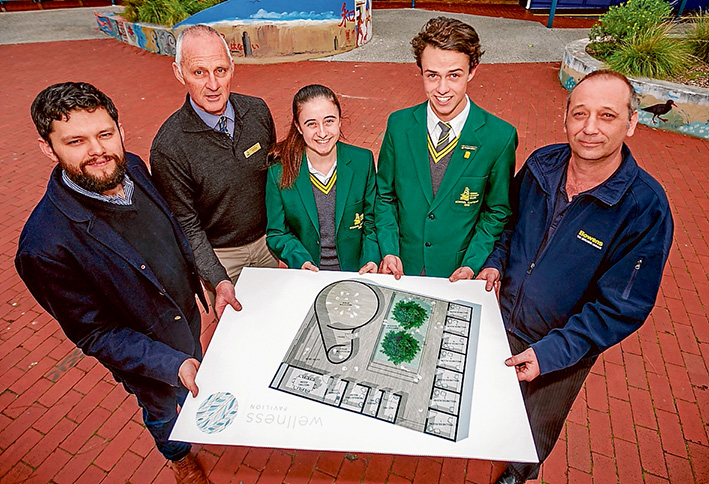 AN appeal has been launched to build a centre that can save and turn lives around for troubled young people on the southern peninsula.
Land has been set aside for a Wellness Pavilion at Rosebud Secondary College that can provide a place for meditation and rooms for students to speak with counsellors.
Two mothers spoke movingly about how the suicide of a young member has affected their lives.
Year 11 student Hamish Swayn described the far-reaching impact the suicide of his uncle last year continues to have across his family and local community.
"People can easily get stuck in a place where they don't know how to ask for support, or when to admit to themselves that they need help, which is why I feel that the use of a space that facilitates wellbeing would be very beneficial, especially for students facing mental health issues, as we are statistically most at risk," Hamish said.
Rye mother Julie Campbell, who lost her daughter to suicide in 2013, said the Wellness Pavilion "will provide all students access to learning critical skills in resilience and mindfulness, and access to enhanced levels of personal support when needed".
Ingrid Maynard told of her family's ongoing grief and heartache after her stepdaughter's suicide in June.
"Had she been able to access a place like the Wellness Pavilion, she may still be with us now," Ms Maynard said.
Mornington Peninsula Shire mayor Cr Bev Colomb launched the appeal rto raise money for the pavilion.
"It will provide youth and their families with a place to reflect and address the many challenges they may face in their daily lives, and learn mindfulness techniques as they engage with life-affirming options and gain self-confidence," Cr Colomb said.
Assistant principal Geoff Seletto said the school and its supporter Rosebud-Rye Rotary was seeking donations "in the form of dollars, labour and building and landscaping supplies to make this happen".
"We cannot do this alone," Mr Seletto said. "We hope to start construction in 2016."
Details: www.rsc.vic.edu.au
For support and information about suicide prevention, contact Lifeline on 13 11 14 or Suicide Call Back Service on 1300 659 467.
First published in the Southern Peninsula News – 1 September 2015