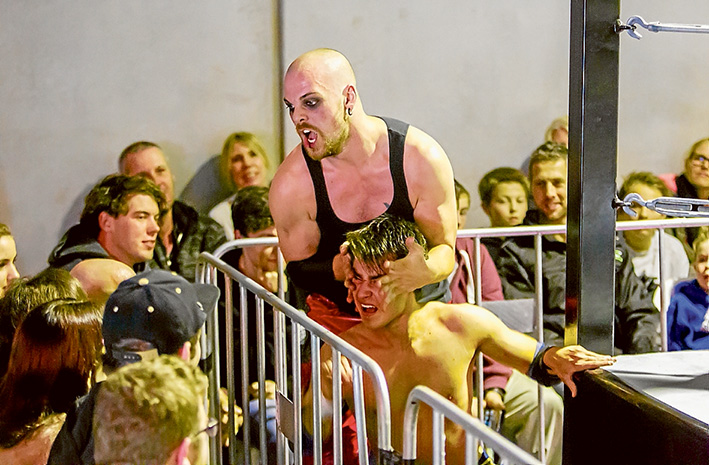 REMEMBER the glory days of World Championship Wrestling at Festival Hall?
Sunday afternoons in the 60s and 70s would come alive with mad-cap bouts – mainly between US showmen wrestlers and the locals – over 16 years.
Was it rigged? Was it all a sham? No one really cared as we cheered the "good" guys – the Golden Greek, Spiros Arion, Mark Lewin, Mario Milano, and Dominic DeNucci, taking on the "baddies" – Killer Kowalski, Brute Bernard, Bulldog Brower and Abdullah the Butcher.
Gravel voiced US-born commentator Jack Little was in his element, spruiking his famous catchphrases: "Wham! Bam! Thank you Maam!", "All I can say is – Wow!" and "That's all there is, there isn't any more!"
It was mayhem; it was over the top: but it was fun.
Now, some of that show-biz wresting action is playing out on the peninsula. Night Cap Wrestling Federation, of Rosebud West, is teaching local enthusiasts the art of professional wrestling, while providing what it calls "family friendly entertainment" for spectators.
Those taking part learn the art of in-the-ring work as well the skills needed to help build successful shows with the help of professional wrestlers at what's described as the peninsula's first wrestling training school.
Owners and promoters Joshua and Kim Crute say that, so far, 10 local guys and girls had been training hard so they can compete in live events in front of the crowd.  New classes for those wanting to learn the art will be held at the end of this month.
Night Cap Wrestling Federation also supports local business and community groups, such as Cancer Research Advocate Bikers (CRAB) which sets up a food van at the shows with all profit going to cancer research.
"We are focused on being able to provide a warm environment for those who want to learn the art of pro wrestling, as well as providing entertainment for the families of local residents," Mr Crute said.
"We want to bring back the thrill of live events and become a place where families can go on a Saturday night. It's about letting local people have the platform to entertain and to be entertained.
"A lot of them still refer to the old Festival Hall days and how much they loved being with their families and that's what we are trying to bring back."
At the group's first show, Pandemonium on the Peninsula, the crowd of about 130 clapped and cheered from the first bell to the last, cheering on local and interstate talent.
A highlight was the crowning of the first NCWF Southern Star Champion, Andy Gold, of Rosebud West, who won a "Triple Threat" match against Skip Sampson, of Fingal, and CJ Redfield, of Sunbury.
Also at the event, Paul Thornton was crowned the first NCWF heavyweight champion after he won a 20-man "Battle Royal" against interstate, Victorian and local talent.
At the group's Overdrive show on Saturday, International talent Global Force Wrestling's Ali Akbar took on local trainer and one of Australia's best, Gabriel Wolfe.
Night Cap Wrestling Federation shows will be held every month – the next on Saturday 17 October, with a pre-Halloween theme, as well as Saturday 14 November and Saturday 12 December.
Visit nightcapwrestlingfed.com for more information and next year's dates.
First published in the Southern Peninsula News – 8  September 2015