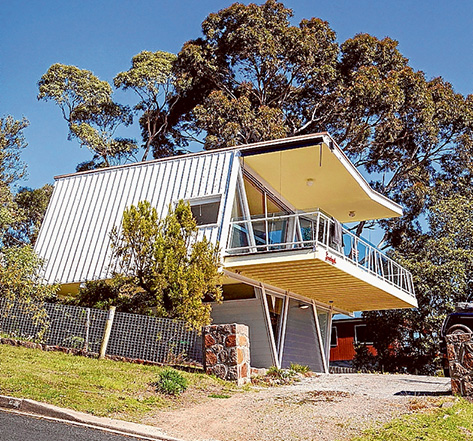 DROMANA'S famous Butterfly House; war memorials at Somerville, Red Hill and Mornington; the former Sorrento post office; and a slab cottage built in about 1850 at Heronswood are among the places featured at the 2015 Mornington Peninsula Heritage Awards.
The awards are a joint effort of the peninsula branch of National Trust and Mornington Peninsula Shire, and started in 2011.
They were presented on Friday 28 August by shire mayor Cr Bev Colomb and Dr Graeme Blackman, chairman of the National Trust board.
Cr Colomb said the "excellent nominations" received this year were a good indicator that interest in the awards was as strong as ever.
"There are many fascinating and important heritage places on the peninsula and it is encouraging to see owners, heritage professionals and the community coming together to protect them," she said.
Judy Walsh, National Trust branch president, said this year's awards were remarkable in their diversity, and congratulated the recipients.
"It's very rewarding to see the younger generation involved in heritage conservation in its various aspects including buildings, landscapes, cemeteries, gardens and objects," she said.
"It is gratifying to see the strength of commitment in a community continuing to embrace conservation of heritage places as important and acknowledging their value as cultural assets."
Winners
Restoration of a heritage place
Somerville war memorial, Fruit Growers Reserve – awards presented to stonemason Paul Smith for relocation and restoration of memorial; Brandon Perrett for bespoke manufacture of traditional heritage light installed on top of memorial; and Somerville Historical Society for supply of original plans and specifications.
Dromana Cenotaph, Memorial Park – award to stonemason Howard Patrick of Dromana for restoration.
St John the Evangelist Anglican Church hall, King St, Flinders – award to St John's Parish Council.
Heronswood 1850s slab house adjacent to main house in La Trobe Pde, Dromana – award to carpenter James Webb for restoration of rotted exterior timbers.
McCraith House (also known as Dromana Butterfly House) – award to RMIT University's property services for asbestos removal and other improvements. The house is used by the university as a writer-in-residence property.
Restoration and creative reuse of a heritage place
Restoration of former Sorrento post office – awards to building owners Peter Griffin and Terry Swann; architect Steve Hofer of Williams Kaye Hofer, Mornington; and John James of Joven Building Services. The building is leased to clothing retailer Country Road, which along with adaptation architect Don McQualter of NSW-based Meacham Nockles McQualter, received the "Creative reuse of a heritage place" award for adapting the building.
Excellence in heritage-related interpretative signs
Rye history board at Rye post office – award to Rye Historical Society.
Fallen Soldiers Memorial at Rye Civic Hall – award to Rye Historical Society.
Grave of Charles Ah Foo at Sorrento cemetery – awards to Sorrento Cemetery Trust and Peter Munro for historical research. Ah Foo was the third burial recorded at the cemetery.
Sustainability and/or greening of a heritage place
Planting of Norfolk Island pines to complete missing links in Avenue of Honour, and commemorative plaque, Norman St, Flinders – awards to Flinders Historical Society, Flinders Community Association, Flinders RSL, and Flinders Lions Club.
Heritage trade skills
Restoration of bronze plaques at Mornington Memorial Park, Barkly St – award to metals conservator Paul Hunt of Paul Hunt Restorations.
Creation of a heritage place (inaugural award)
Red Hill Memorial Garden – award to Red Hill Community Association (which is still seeking public donations to meet a target of $55,000. Information at www.redhillcommunityassociation.com or call Felicity Jackson, 0438 425 815.
For more information about protection of heritage places on the peninsula, contact the shire on 1300 850 600 or National Trust's peninsula branch on 5988 9853.
First published in the Southern Peninsula News – 8 September 2015