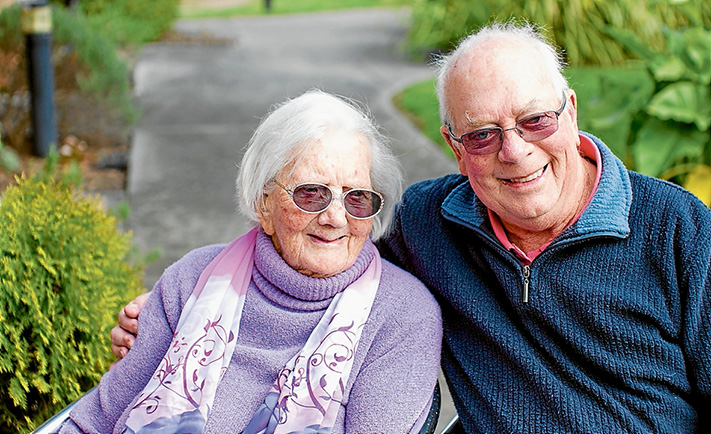 A LONG-TIME peninsula resident with a yen for adventure will celebrate her 100th birthday on Sunday.
Thelma Adams will be joined by her two children Roy and Joan, as well as seven grandchildren, 14 great-grandchildren and eight great, great-grandchildren, and friends, making it a family affair to remember.
Mrs Adams, who lived at Somers for 30 years and for the past year at an aged care home at Mornington, was born in South Melbourne on 13 September 1915 and spent her early years there.
She left school at 13 as her mother was unwell and she was needed at home.
After being employed at various jobs around the city she worked for five years at the Hoadley's chocolate factory.
Aged 21 she and David Adams married and moved to Oakleigh. During WWII Dave was a medical orderly in the Air Force at Biak, New Guinea, until he was medically discharged.
The couple opened a pram-repair shop at Oakleigh which Mrs Adams later turned into a toy shop and ran successfully for many years.
In 1967 they bought the Corroboree store, Ferny Creek, which, during the devastating 1969 bushfires, became a centre for fire crews who used the old swimming pool to fill their tankers.
Then the adventure bug bit had the couple had the store minded while they took 12 months off to travel around Australia in their little caravan.
Retired and moving to Knoxfield after selling the store they started travelling again, this time looking for gemstones and painting, and spending their winters up north at Emu Park, just south of Yeppoon.
The family established itself at Somers in 1984, enjoying the rural and seaside environment. "It was a super place for us to live," she said, especially being near son Roy and wife Lesley.
But, after another trip to Emu Park and Kinka Beach, Dave died at Yeppoon hospital and his ashes were scattered on Keppel Bay.
After being alone for a year, Mrs Adams decided to visit the places they had enjoyed together. At 77 she bought a Greyhound bus ticket which allowed her to get off the bus wherever she wanted, and then board again when she was ready. But, after being late for the bus after an outback roadhouse lunch stop the bus left without her. Undaunted, she hitched a ride on a road train and enjoyed their outback hospitality before getting back on the bus later.
Overseas travel beckoned, and Mrs Adams visited Europe with daughter Joan and friends in 1997, and Europe again, with Joan, in 1999.
After 30 years at Somers, enjoyed the walks on the beach with the dog, and the company of other seniors at Balnarring, Mrs Adams moved to the Opal Aged Care in Racecourse Rd, Mornington, where she has enjoyed living for the past year.
As daughter-in-law Lesley said: "She is fairly frail physically but bright as a button mentally and reads the newspaper from front to back daily."
Asked if there was anything she would still like to do, Mrs Adams quipped: "Why, go to China, of course!"
The party at Joan's place in Dandenong on Sunday will be a great way to see in her centenary.