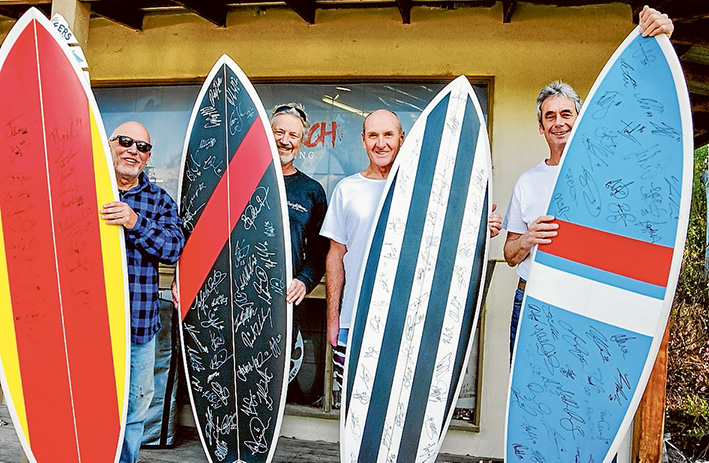 IT might be getting to the pointy end of the season for the AFL, but players were not too busy when asked to sign surfboards for a charity auction.
The players stayed off the field long enough to take turns with black markers to autograph boards made in their team colours for the Disabled Surfers Association Mornington Peninsula branch.
The auction for the 18 boards starts 2.30pm Sunday 13 September at the Baha taco and music bar, 2201 Point Nepean Rd, Rye.
Bids, starting at $650 a board, will be taken from the floor and over the phone. Unsold boards will be auctioned later on eBay.
The boards (including a Hawks premiership board) were made at the Trigger Brothers shop, Point Leo.
The 6ft 6in retro single fin boards were shaped by Simon Forward, glassed by John Jolly and finished by Al Francis finishing. Burford supplied the blanks and Nuplex the resins.
The DSA hopes to raise $20,000 through the auction which will be spent on improving beach access for the disabled at Point Leo.
The Disabled Surfers Association was established over 25 years ago and has branches in every state.
The Mornington Peninsula branch each year holds several surfing days for people with any disability and works to improve access to the beaches.
More than100 disabled surfers and 300 volunteers attend the surfing days at Point Leo and other events are held by another DSA branch at Ocean Grove.
To find out more about the DSAMP go http://disabledsurfers.org/vic/morning-peninsula-branch/
To bid for a board go to Baha on the day or register at www.firstreef.weebly.com