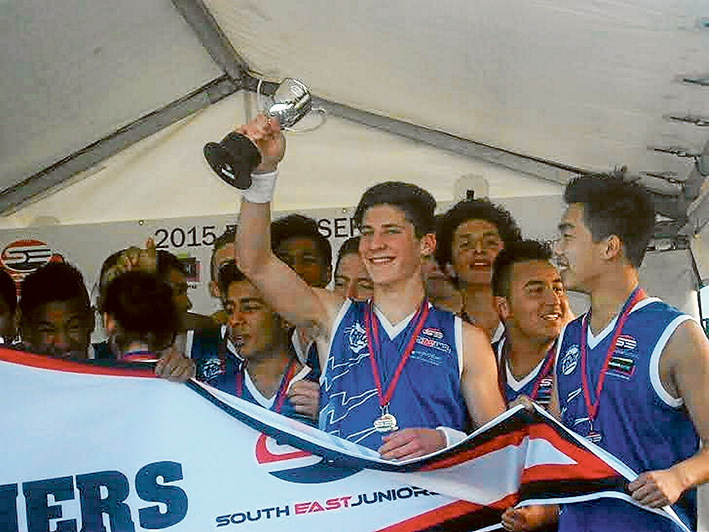 YOUNG football star Perry Lewis-Smith has won swags of league and club awards after a sterling footy season.
The Mornington Secondary College 2014 Sportsman of the Year played well throughout the South East Football League season, helping Parkmore Junior Football Club under-17s win this year's flag.
As captain, Lewis-Smith gathered 44 disposals, kicked three goals and had six goal assists in the grand final and was judged best on ground – an award he also won in 2011.
Two nights later, he polled 27 votes to win the South East Junior Football League's best-and-fairest award.
Lewis-Smith previously was named Mornington Peninsula Junior Football League's best-and-fairest runner-up in 2009 and 2010. A week later he won his club's best-and-fairest award in a landslide.
Lewis-Smith has played junior football for 11 years and he is working towards achieving his ambition of becoming an AFL player.
Personal fitness coach Shaun Penny, of Mornington, has trained him for many years.
Lewis-Smith: "I believe Shaun has played a big part in the fitness levels I have achieved. He works me very hard and I love it."
Penny, of Fast Tracked Performance, said Lewis-Smith was "a delight to train and does everything asked of him".
"He has a beautiful nature and caring and helpful attitude to others that separates him from other athletes.
"From the age of 10 or 11, when I began training him, he quickly showed he had a big heart with a polite, courteous nature, well mannered and always helping others."
Penny said that as well as being a star footballer, track and field and cross country athlete, Lewis-Smith was described as modest. "He is the sort of kid you just can't help but love. I know he will go on to be a permanent fixture in the AFL."
On top of his on-field exploits Lewis-Smith is a two-time Australia Day Pier to Pub 5.3km run winner in the race from Dromana to Rosebud.