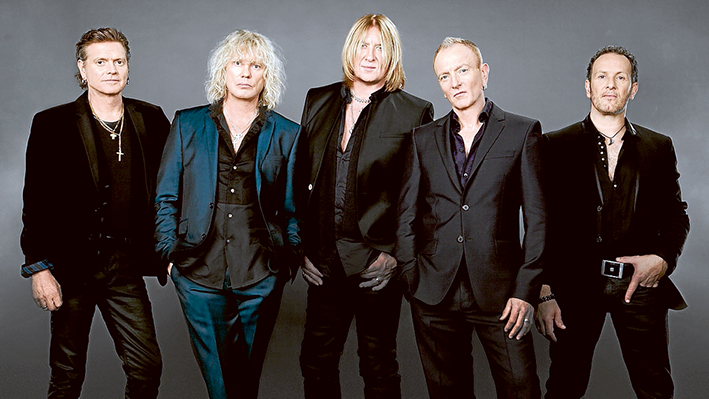 The haters gonna hate, hate, hate, hate, hate but Def Leppard are due more credit in rock and roll's history books than critics generally give them. Taylor Swift certainly thinks so.
The biggest pop star in the world right now performed with Def Leppard in 2008 as part of a US series called Crossroads that paired modern musicians together with their idols from yesteryear.
Swift reckoned that singing the likes of the hit song Photograph with the band was "my childhood dream come true".
"My mom was a huge fan of theirs when she was pregnant with me," she said at the time. "So growing up, the music that was playing in my house was Def Leppard. It was music that she liked that I could like too."
Def Leppard sold more than 100 million albums in the 1980s and 1990s – mostly thanks to the Pyromania (1983), Hysteria (1987) and Adrenalize (1992) trio of albums and hits such as Pour Some Sugar On Me, Love Bites and Let's Get Rocked – but there is a feeling the rockers, despite Swift's praise, have been unfairly tarred with the same brush as certain flash-in-the-pan 'hair metal' bands of the era who quickly rose and fell just before grunge conquered the music world in the mid-90s.
There have been tragedies for Def Leppard among the glory days along the way – guitarist Steve Clark died of a prescription drugs and alcohol overdose in 1991 and drummer Rick Allen lost an arm after a car crash on New Year's Eve in 1984 – but the core of the band including Elliott, bass player Rick Savage, guitarist Phil Collen, drummer Allen and 'newcomer' Vivian Campbell, who joined in 1992 to succeed Clark as guitarist stand strong today.
MINT spoke to Def Leppard frontman Joe Elliott on the eve of the band's latest Australian tour and asked whether he resented the band being (h)airbrushed from rock history by some sections of the music press, most notably the weekly UK mags such as NME.
Elliott, on the road and calling from Indianapolis in the midst of a US tour of stadiums, sounded like he and his bandmates had the last laugh as he recalled the band's critical reception in some quarters despite their global success.
"There's an elitism within the media and from certain artists," he said in a distinctive Sheffield born burr.
"We used to joke about it. We used to imagine some guy walking onto the open plan floor of Rolling Stone magazine's office wearing a Def Leppard T-shirt and being asked 'what the hell are you doing?' while they're all wearing their Loudon Wainwright, Lou Reed, REM, Springsteen T-shirts.
"We are one of those bands that certain parts of the media just love to tear to pieces because they see us as these dinosaurs.
"We never got the credit for rewiring the way rock and roll was recorded in the 80s. When we put out Pyromania and Hysteria people hadn't put out records that sounded like that before, because the material wasn't like Morrissey or Psychedelic Furs style."
Elliott believes some in the music press can hold a grudge if a band becomes big without its backing or permission.
"When you're massive with the public but not big with the press it really gets up their nose.
"People in the press wouldn't admit to liking Meat Loaf in the press or Bon Jovi or Taylor Swift … but these are the very artists who will sell stadiums out," he said.
"That's not coming from a sense of bitterness. I couldn't give a f*** what the press think. The fact is we've got an audience and that's what important."
The band are still playing the big venues, a testament to their longevity with old and new fans alike, and Elliott also credited this with Def Leppard's enthusiasm for still playing their biggest hits in the live arena.
"Any band that's been around as long as we have – bands like The Who and The Rolling Stones – are going to play stuff people know. It's part of what we do.
"There is a core element of certain songs you know that if you don't play you won't get out of the building alive. They're the songs that put you in those buildings so you can't deny them."
Australian fans are in for something different from the current US tour though with the band releasing their first album of new material since 2008 in the form of a self-titled Def Leppard album next month.
"'This is a track from our new album' are the most dreaded words a singer will ever say," Elliott joked.
"But also they're the most important because as long as you're saying it you're still doing something current. You have to keep making new music whether the rest of the world think it's important or not.
"Let's not turn every act that goes out live into a nostalgia act."
He assured old school Def Leppard fans that they will hear all of the band's best-known songs though.
"I don't buy into that 'these are the songs that made us popular but we're not going to play them'."
Unlike so many of their 80s and 90s peers, Def Leppard have also refused to go down the break up/reunion/repeat route to sell tickets for live gigs.
"Yeah, there are certain bands that do that. I mean, god bless 'em but The Scorpions have been doing a farewell tour now for about six years, The Eagles have been doing one for about 20 and I think Cher's being doing one since the 1980s," Elliott said.
"As unsexy as it sounds, we get on really well. There's no agenda, there's no big drama in the Def Leppard camp. We have our moments where we don't see eye to eye on certain things but we're man enough to stand up and talk about it, nip it in the bud before it becomes a volcanic eruption, and get on with it."
This reluctance to engage in showbiz divaesque behaviour could be traced back to the bands roots in working class Sheffield. The singer says the band members were "very aware of the opportunity" afforded them by their hard-working parents' encouragement in allowing them to pursue their rock and roll dreams.
"We didn't fear failure but maybe not being able to do it at any kind of level. None of us wanted to go back to the regular life," he said.
"I'd rather play the [Glasgow] Barrowlands than work on a building site."
The working class worth ethic saw Def Leppard push on and become one of the biggest bands on the planet at the height of their career in the 80s and 90s and Elliott looks back on it with some fondness but also thankfulness for the present.
"There was times when we literally were outselling everybody on the planet," he noted.
"Back in the day, standing toe-to-toe with everyone from Bono to Springsteen was great but we're not exactly down in the bowling alleys now.
"No-one even bothers looking at the charts anymore but we're still playing to 20,000 people in Dallas, for example, so it's not like we're not still one of the biggest bands in the world it's just we're one of the biggest touring bands in the world, if you like.
"In many respects, it's been and gone and come back and that's because of the hard work we've put in and we do have a legacy and we do have a massive collection of hit singles and well-known songs.
"Our standing with the audience has never really dropped and our standing within the business is rising again."
Def Leppard play Rod Laver Arena, Melbourne on Wednesday 18 November with guests Live and Electric Mary.
See premier.ticketek.com.au online or call 13 28 49 for tickets including VIP tour packages and backstage passes to meet the band.