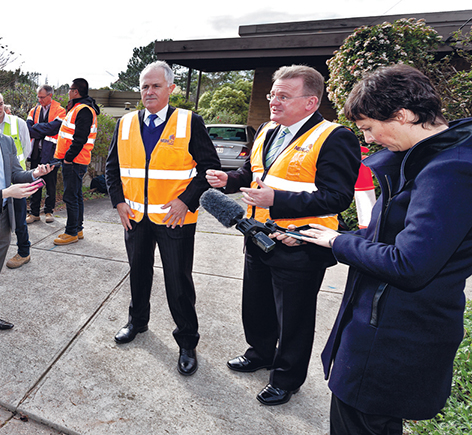 TONY Abbott was ousted as prime minister last week by his Liberal Party colleagues but local federal MPs Bruce Billson and Greg Hunt remained loyal to Mr Abbott until the end.
Both confirmed they voted for the former prime minister in the party room ballot won by challenger Malcolm Turnbull 55-44 last Monday evening (14 September).
Bruce Billson, the member for Dunkley and until Sunday, the Small Business Minister, said last week the Abbott government was "getting plenty of good things done but there wasn't a sense that was being conveyed well and clearly to the electorate".
"We're two years into a three-year term and my colleagues felt a change in captain-coach would be a sensible thing to do," he said.
"I voted for Tony Abbott. Being a cabinet minister brings with it an additional level of responsibility to work with and support the prime minister.
"I take that responsibility seriously and it might be a little old-fashioned but I'm a great believer that you go home with those who brought you to the dance and felt that was the right and proper and honourable thing to do."
Environment Minister Greg Hunt, the member for Flinders, also believed cabinet loyalty is important.
"I supported Malcolm Turnbull when I was a member of Mr Turnbull's shadow cabinet in 2009 and equally, as a matter of deep personal principle and duty, I remained loyal to Mr Abbott as a member of his cabinet and voted accordingly," he said in a statement provided to The News.
The local cabinet members' sense of loyalty to their leader last week was not shared by several of their cabinet colleagues, including Julie Bishop and Christopher Pyne, who sided with Mr Turnbull in the leadership ballot.
Mr Billson hoped the Coalition government could now put internal divisions over leadership to bed and get on with governing the country.
"I think Malcolm Turnbull has made it quite clear that he and our team start from a solid foundation of good achievements and positive momentum on the economy, on jobs, on security and a range of policy fronts but he's indicated a particular focus on preparing our nation, our economy and our citizens for the future."
Mr Hunt congratulated Mr Turnbull "on becoming the 29th Prime Minister of Australia".
"Prime Minister Turnbull has already said he intends to keep our climate change policies and targets," Mr Hunt said.
"Right now our focus is on the future. We are focused on the economy, jobs and security. We are focused on delivering Australia the good government it deserves."
Mr Billson admitted some constituents were "were quite sad with the way Prime Minister Abbott was dealt with" by his Liberal Party colleagues and "felt if there was to be a change they would rather that was done at the ballot box" but he said others had contacted his office in the past few days to "recognise the need for change".
"They realised we could not risk a change of government and Bill Shorten and the CFMEU running the country," he said.
Mr Abbott was deposed as prime minister by his party just under two years after winning the 2013 federal election.
His time in office was marred by controversy including broken pre-election promises including funding cuts to education and hospitals and a first federal budget deemed by many to be unfair on lower and middle-income earners.
Opinion polls consistently showed the Abbott government was unpopular with voters after being elected.
Mr Turnbull announced a reshuffled cabinet on Sunday (20 September). Mr Billson lost his cabinet post as Small Business Minister to Kelly O'Dwyer but Mr Hunt remained Environment Minister.
Mr Turnbull will now keep an eye on opinion polls and could decide to call an election before January 2017 if the Coalition's political fortunes improve under his prime ministership.