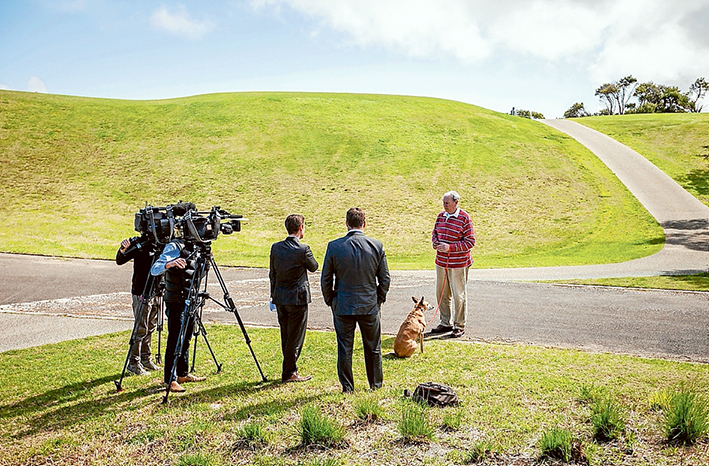 RACV head office moved quickly to stop the culling of kangaroos at its Cape Schanck resort last week after complaints from neighbours.
A couple who live in the adjacent estate were walking two dogs on leads on a concrete path just before 7am last Thursday when they saw a spooked kangaroo hopping rapidly beside the third fairway then across the fourth and into bush bordering Cape Schanck Rd near the fifth hole.
Seconds later John Henshaw and his wife saw two men emerge from bushes where the third and fourth holes blend.
"One had a large rifle with telescopic sights, a bipod [two-legged gun stand] and a very large silencer," Mr Henshaw told The News.
The men climbed in to a golf course maintenance vehicle and drove off toward the course workshop.
Mr Henshaw reported the incident to the golf course pro shop as well as Rosebud police.
Later in the morning he was called by the resort's acting manager, Allison McCrindle, who said the RACV had permission to kill kangaroos because, she said, there "had been an attack" but would not elaborate.
Mr Henshaw speculated that an incident several months ago may have led to the proposed cull. A woman was riding a bike with her dog off lead. The dog had encountered a kangaroo, which had turned on it and chased it, distressing the woman.
"These kangaroos are protected in principle and are harmless in practice. We see them, up close and personal, almost daily," Mr Henshaw said.
"We know of people who leave their gates open to let them in and out of their property when their children are playing. It is a ridiculous overkill to get a permit, and have a man with a bloody big gun with a silencer, 20 metres from houses in the post-dawn hours, trying to shoot three kangaroos who don't harm anyone."
Irene Wyld, chair of Moonah Estate Owners Corporation, said the incident occurred in a residential area near where "a number of us walk early in the morning".
"Many other golf courses throughout Australia have kangaroos roaming the fairways – there is no rational reason why the RACV should be allowed to shoot any kangaroos on this particular golf course," she said.
"There has not been one word of communication to residents in regard to this attempted cull."
Another resident, Phil Gleadhill, used Twitter to complain about the incident and received a reply from the organisation: "RACV alarmed to hear of Cape Schanck cull permit. Unauthorised by HQ and stopped immediately, no roos believed harmed."
On Friday, the RACV's southern resorts general manager, Mark Bennetts, emailed some residents: "We … learned today that a permit had been obtained to cull some kangaroos at the resort. This was a total surprise to us, was not an approved activity and has been stopped immediately. We understand that no kangaroos have been killed."
He later issued a statement to The News: "RACV can confirm that a permit was obtained to cull six kangaroos at its Cape Schanck resort after local residents and golf playing guests reported aggressive behaviour by kangaroos in this area.
"The permit was obtained by a staff member without authorisation. As soon as RACV management was advised, a directive to cease all activity was immediately issued. As far as we are aware, no kangaroos have been harmed.
"We apologise for any alarm or distress caused by this unauthorised action."
The Department of Environment, Land, Water and Planning reportedly confirmed a permit was issued late last month to cull a "small number" of kangaroos at the resort.
A spokesman said the permit was granted after reports of aggressive kangaroos attacking people and dogs.
First published in the Southern Peninsula News – 22 September 2015