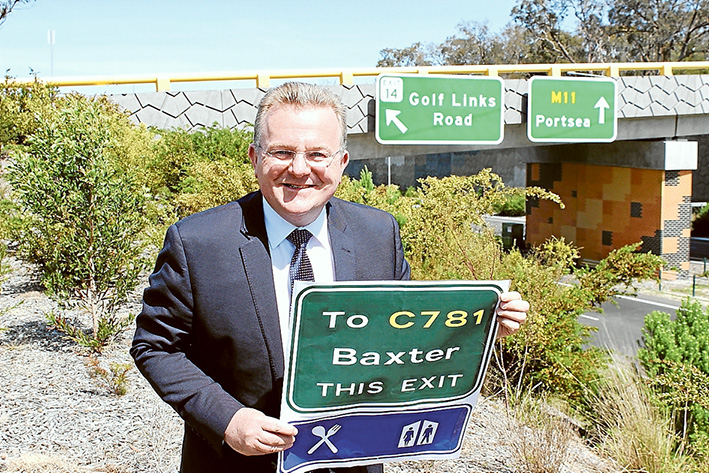 ALMOST three years after opening in January 2013, Peninsula Link freeway will get directional and tourism signs that were omitted from the original brief for the $850 million road.
The signs come courtesy of intense lobbying by federal Dunkley MP Bruce Billson and peninsula tourism officials, and will be installed in time for this "year's peak summer holiday period", Mr Billson said.
About $175,000 of the cost will come from a federal Coalition government grant organised by Mr Billson in what some people will see as an unfair cost burden as the freeway is a private public partnership between the Victorian government and Lend Lease.
Peninsula motorists were surprised and disappointed at the lack of directional and tourism signs when the freeway opened. Tourists using the freeway were even more disappointed when they ended up lost or on the wrong road.
There were no signs on the four-lane road showing traffic where to exit to reach Baxter, Hastings and the Western Port side of the peninsula. Signs showing drivers how to get to Mt Martha were also omitted. Few tourism signs were erected.
In August 2013, Mr Billson said the Coalition government would contribute $175,000 to "refresh and update the 'Tour Peninsula' tourist directional signage and to correct location signage errors such as omitting the Baxter township".
Last Wednesday, Mr Billson said "At last, the 'green light' has been given by state road authorities to install the much-needed and long-awaited Peninsula Link signs".
"Townships and … destinations across the region will finally get the recognition they deserve," he said.
"The signs will make local population centres and key points of interest easier for visitors to find and will help businesses."
Mr Billson said the signs would also improve driver certainty, traffic flow and township identification.
In total, 32 new signs will be installed and 14 alterations made to existing signs along the freeway and its approaches between the EastLink tollway intersection north of Seaford and Mornington Peninsula Freeway at Safety Beach.
New township directional signs will be installed for Baxter, Langwarrin, Mornington, Mt Eliza, Frankston, Mt Martha, Cranbourne, Tooradin, Portsea, Somerville, Tyabb, Hastings, Flinders and Phillip Island.
Mr Billson said there had been an "arm-wrestle over which tourist destinations were judged by VicRoads to be 'regionally significant'. Signs will point to Frankston Arts Centre, Peninsula Aquatic and Recreational Centre in Frankston, McClelland Sculpture Park, and the Mornington Peninsula wine region".
In January he said there had been "unacceptable delays" in getting the signs installed. "This has been an exasperating experience."
Mr Billson said he was told signs had not been installed during freeway construction because they were not included in the original contract between the state government and Southern Way [Lend Lease] consortium. The PPP contract will have to be altered to reflect the installation of the signs.
In 2013, Mr Billson blamed the state Labor government for not including a comprehensive signs plan when it signed off on the private public partnership with the freeway builder, which was managed by Linking Melbourne Authority.