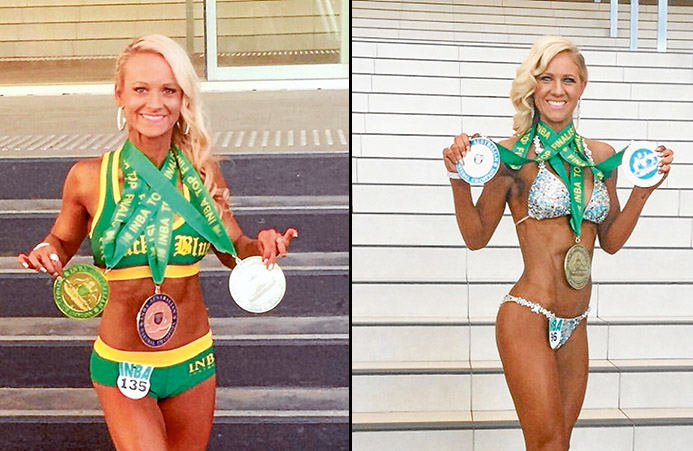 TWO Mornington bodybuilders will take part in the Natural Olympia competition in Las Vegas next month.
Ultimate Fitness owner Nicky Jacobson, who is team coach of the Ultimate Angel Warriors bodybuilding and fitness model team, along with colleague Alicia Jukes, have qualified to represent Australia in the Natural Olympia in Las Vegas, in November.
Club member Andrew Barnes said this was the biggest natural bodybuilding competition on the 2015 world calendar.
Jacobson has made a big impact in her eight-year bodybuilding career. As the Victorian Over 40 fitness champion she qualified for last week's Australian titles in Canberra, where, she was named the Australian Over 40 fitness champion.
As well as these titles, Jacobson has had other placings over the past month in different divisions. These include a fourth, two thirds, one second and two championships titles.
The dedicated athlete is also a committed coach of a team of 20 athletes all competing in different divisions, ranging from novice to champion.
Jukes is a champion in her own right: she took out three championships at this year's Victorian titles despite not competing in her chosen division of bikini model.
The mother-of-two won all of her categories and went from strength to strength, taking out another three placings at this year's Australian titles.
"These two amazing women are dedicated mums, personal trainers, friends and Victorian and Australian champions. They are now on the way to Vegas for the biggest and best show this year," Barnes said.
"The Natural Olympia is the pinnacle of the natural bodybuilding calendar and is set to be the biggest show in which the pair has ever competed."
While their dream of representing Australia is now a reality, they are also appealing for financial help. The pair's Go Fund Me account is gogetfunding.com/inba-natural-olympia/