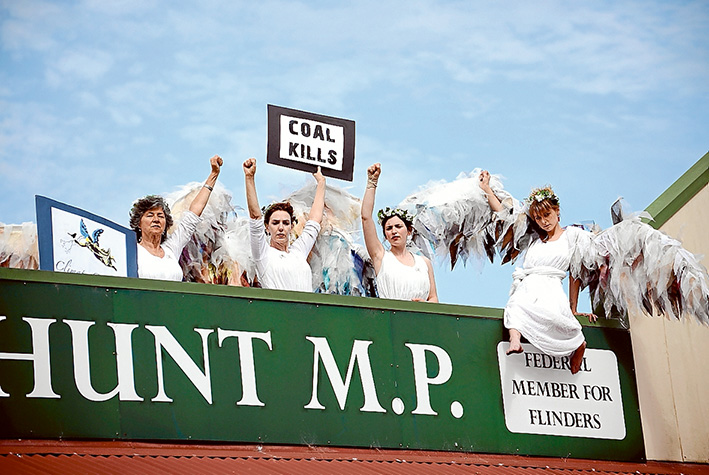 THE tension between activist group GetUp and Environment Minister Greg Hunt rose another notch last week over filming of a demonstration outside his Hastings office.
Freelance cameraman Brett Tyley says a "dressing down" from Mr Hunt "was intimidating, rude and unprofessional for a man that holds that office".
Tyley says Mr Hunt objected to being filmed addressing a crowd of protesters even though it was Mr Hunt "that walked into the front of the crowd who I was there to film as part of my job".
"I was shocked at this as it is very unusual to be addressed as a cameraman. I was filming in a public space of which he had walked into and, thirdly, I have previously filmed Mr Hunt in identical circumstances where it was actually welcomed."
Tyley's account of the confrontation during GetUp's demonstration to protect the Great Barrier Reef was posted on social media.
Mr Hunt, when asked to comment on Mr Tyley's claims, said he understood the "passion of the local community" to protect the Great Barrier Reef.
"On Thursday, a meeting was organised with a small group of GetUp representatives and local residents at my office to discuss their concerns about the reef and climate change," he said.
"I was not notified that there would also be a large crowd outside the office, however I took the opportunity to speak with them.  I then invited them all inside the office and about 30 people took up this invitation to chat with me and I spent more than an hour with them." (See "Reef protection", Letters)
Tyley, who has worked for television networks Ten, Nine and the ABC, says Mr Hunt's reaction to being filmed was something "I have never encountered before on any level from anyone else".
After being told by Mr Hunt to stop filming, Tyley says he "politely asked" for permission, although he knew he did not need to do so as the demonstration was being conducted in a public place.
"He replied 'yes, it is a courtesy'. I then politely replied 'I'm sorry. May I continue to film for which he turned his head and stated 'No'.
"I stopped filming because I didn't want a confrontation. However, one of his staff came up and stood right in front me to block my view, I guess just in case.
"In my time I have met quite a few politicians from both sides – my father at one stage even spoke to John Howard regarding policy over a breakfast – and most of the time behind the scenes they are quite nice.
"But, regardless of where you stand on the political sphere, I felt in this instance Mr Hunt's dressing down of myself was intimidating, rude and unprofessional for a man that holds that office, considering the fact it was himself that walked into the front of the crowd who I was there to film as part of my job."
GetUp members rallied outside Mr Hunt's office three times in September.
At one rally, GetUp protesters carrying a bag of coal into Mr Hunt's office were met by a comment from executive officer Denise Garnock, "so you're going to pollute our office with coal?" and the accusation from Mr Hunt that they had intimidated his staff.
Mornington Peninsula GetUp member Simon Hawking, one of two people who carried the coal into the office, denied there had been intimidation and said three police officers "happily chatting to the crowd" would have been called in to the office if it had occurred.
GetUp describes itself as "one of Australia's largest campaigning communities, with a membership of over 800,000 people. We're an independent, grassroots, community advocacy organisation that seeks to build a more progressive Australia and hold politicians to account".
GetUp is now calling for contributions for it to continue its legal battle to stop development of Indian-owned Adani's Carmichael coal mine in central Queensland, which will export its output through terminals at Abbot Point, within the Great Barrier Reef.
Mr Hunt last week gave the go ahead for development of the mine subject to "the strictest conditions in Australian history".
"This coal mine is the dumbest, most dangerous and uneconomic development in Australia," GetUp's Sam Regester said. "Mining and burning this coal will cook the Great Barrier Reef. The mining and burning of coal causes reef waters to warm and become more acidic. This mine's coal will be a massive contributor to dangerous global warming and push us over the two degree limit.
"Prime Minister Malcolm Turnbull needs to step in and save our reef from this damaging project we know will cause terrible damage and runaway global warming.
"Australian and international banks have all rejected this mine because it is a bad investment and bad for their reputation. Adani has lied about how many jobs it has created, ruined the environment and ridden roughshod over human rights where it has previously operated in India."