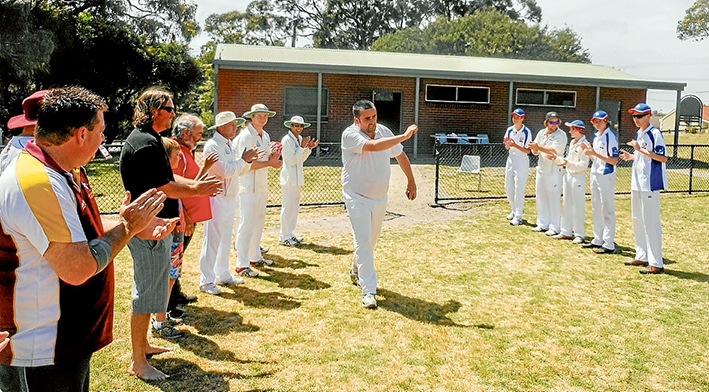 PLAYING in a cricket match with his father, two brothers and brother-in-law is a career highlight of Mornington Cricket Club 300-gamer Michael Voss.
Padding up for his first game in the 1987/88 season at age 12, Voss played his 300th senior game against Delacombe Park in B2 grade on the weekend.
This makes him only the seventh club member to play 300 games in its 152 year history. Others include George Keys, Jeff Calder, Paul Brown, Stephen Voss, Terry O'Keefe and one other.
His best batting performance is 63no and his best bowling figures are 5/31.
Another highlight was a semi-final win against Mt Martha in the mid-90s. "We were the underdogs and had our seconds and thirds playing semi-finals that day," he said. "Their games finished early on Sunday and what seemed like the whole club was there to cheer us on to victory against a team which hadn't lost all season.
"Also, seeing the firsts win the premiership against Sorrento at Dromana was huge after a lean few years for the club.  As a supporter it wasn't difficult to get caught up in the emotion of it all.  'Gapesy' you star."
And the lowlights? "Definitely our grand final/semi final losses, including three losing semi-finals and three losing grand finals," he said.
Among the best cricketers Voss says he has played is Matt Foon. "I captained him in the seniors against Heatherhill when he was about 13," he said. "The writing was on the wall"
Other greats were Tony Stocker, Danny Clements, Jeff Calder, Darren Uccello, Anthony Gapes and Matt Gapes.
One of the funniest things Voss has seen on the field occurred during a match against Delacombe Park at Wilsons Rd. "We had a few overs to bat to finish off the game after a win," he said. "I was umpiring and I saw the fielder at mid-off texting on his mobile when the ball was smashed at him: he took the catch with his non-preferred hand and didn't miss a beat with the text.  He didn't drop the phone either."
Playing against Peninsula Old Boys, club veteran Wayne Hansen hit an opposing batsman in the groin. The batsman grabbed the box out of his pants and it was split into two pieces. "Let's just say it ruined his Saturday night."