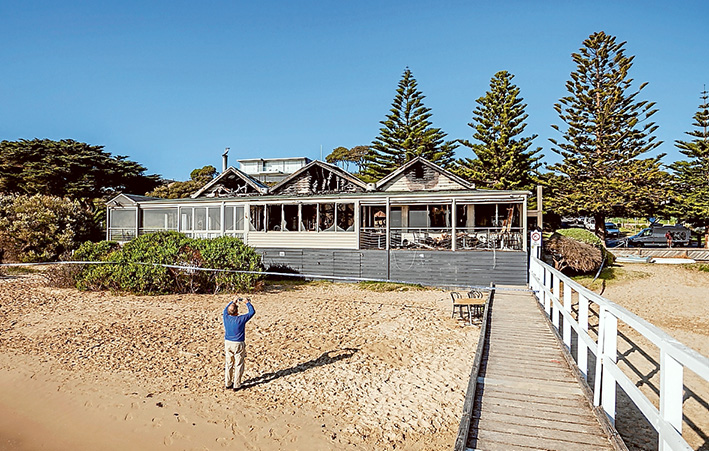 THE razing of popular Sorrento restaurant and function venue The Baths has devastated wedding couples.
But steps have been taken to minimise their loss with a list of alternative peninsula venues posted on social media.
"The Melbourne wedding industry prides itself on being incredibly supportive in times of need, so if there is anything we can do to assist brides and grooms at this time, please do not hesitate to contact us," the post by owner-managers James and Helene Gibson says.
That positivity helped them relocate the three weddings booked for last weekend to the Sorrento Sailing Couta Boat Club, Sorrento Golf Club and Sorrento Hotel.
Mr Gibson said online on Monday: "We are devastated that The Baths restaurant has burnt down. Thankfully no customers or staff were injured, as it was a Sunday evening and the restaurant was closed. We would like to thank the CFA volunteers for fighting the fire."
On Thursday he added: "It's been an emotional and tough few days and we want to thank everyone for all of their support. Tonight the team caught up for a drink one last time. Thank you to the staff. We are and always will be one big family. What a send-off; we will rebuild, we will be back. Watch this space."
Sorrento Chamber of Commerce business development manager Natalie Garner said the community was "coming together and looking to rebound as soon as possible".
"There's lots of support for James and Helene and we are all concentrating on getting the weddings rehoused. That side of things is really positive," Ms Garner said.
"The good news is that no one was in the building and no one was injured."
Mornington Peninsula Wedding Association president Mary-Anne Brasacchio said its 80 members had volunteered to assist the Gibsons find other venues for their wedding bookings.
"No one's panicking," she said. "We are trying to find venues with similar attractions, but it's been a long week.    
"This is not a happy thing but we are giving a high level of customer service and people appreciate it."
Fallout from the fire on 18 October will have a ripple effect on the town, with chamber vice-president Marc Clavin saying the loss of the popular wedding venue would be hard-felt because it attracted custom to the region year-round.
"It will have a big impact here – and not just over summer," he said. "[Weddings] put people into the precinct in the quieter months and an awful lot of people are now seeking alternative venues."
Mr Clavin said retail and service outlets did well out of wedding visitors, particularly those staying overnight. "We get lots of guests here shopping in the street, processing photos, buying food, petrol and mementoes – and then enjoying recovery coffees.
"There is also the big picture stuff, such as the nights out before and after, the accommodation and restaurants."
He described The Baths' proprietors as "specialists in their area".
"The popularity of their venue means it was booked out 12-18 months in advance."
Mr Clavin said the loss of jobs at The Baths would disrupt "the merry-go-round of local employment".
Sorrento, Rosebud and Rye CFA crews fought the blaze for 90 minutes from 8.15pm, with specialist crews called in from Frankston and Mt Martha. The fire is believed to have been caused by an electrical fault in a storage area near the kitchen.
Fire chief Arthur Haynes said the thickness of the laminated glass windows hindered access, adding to the difficulty of fighting the fire.
The Baths is named after the original sea baths built on the site in the 1880s.
First published in the Southern Peninsula News – 27 October 2015