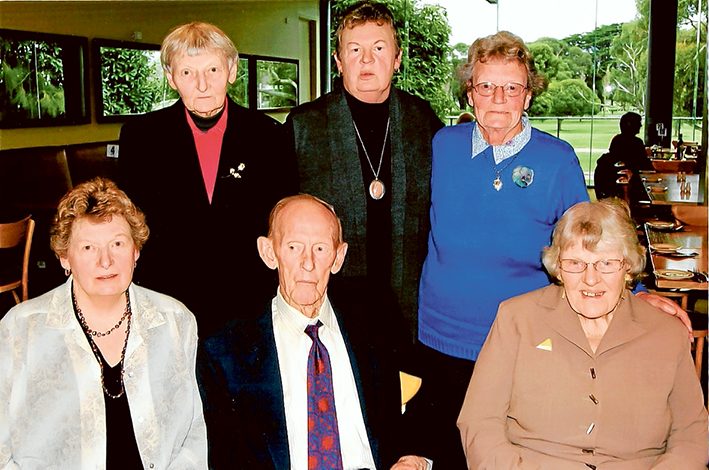 THE Crichton family reunion being held at Boneo Cricket Ground, Sunday 1 November, will bring together the six children of pioneer landowner David Maynard Crichton who moved to the area after World War I.
And, with them, will come dozens of their children, their sons and daughters, aunts and uncles and other relatives and family friends of a man who carved out a big slice of life for himself on the southern peninsula.
Mr Crichton was known and active in community affairs as a shire councillor, shire president and foundation president of the Rosebud RSL.
As a soldier he served in France and other countries in World War I. After returning home to Epping (north of Melbourne) he moved to "Glenlea", in Boneo Rd, Boneo.
Regarded as a good user of working horses he brought his team to the peninsula in 1919 and completed one of his first jobs: road works at The Rocks, near Anthony's Nose, Dromana. Later he bought land at Boneo and began farming.
In 1920 Mr Crichton married Ethel May Cairns and they had six children: Daphne, Gwenda, Bruce, Elvie, Faye and Betty. Mrs Crichton died when the youngest, Betty, was two, meaning the whole family had the responsibility of looking after all the children.
The family lived opposite the school and cricket ground in Boneo and spent a lot of time playing there.
Mr Crichton was prepared to go against tradition if he believed in something. His friend Don Farquar – a fighter pilot in World War II – was blinded after being shot down by the Japanese. Mr Farquar wanted to attend a Rotary Conference in Japan in 1962 and Maynard escorted him there, contrary to public attitudes of the day.
The next year he returned to Japan and arranged for the first Japanese exchange student to come to Australia. Family members still communicate with their former student, who now lives in Texas.
The family also had a property where the Rosebud industrial estate is now, and on the swampy ground grew vegetables which would be harvested for the table.
The six children are all still alive and have notched a total 516 years between them. They all married, with some remaining in the Rosebud area and others living elsewhere in Victoria.
Stricken with cancer, Mr Crichton shifted from Boneo to the Rosebud property and died in 1969. His funeral was one of Rosebud's largest.
His six children have not been back to Boneo at the same time for about 65 years.
Now, the complete family of all the original children, and four generations of their children, will make Sunday 1 November a day to remember – and to celebrate the life of pioneer David Maynard Crichton.
First published in the Southern Peninsula News – 27 October 2015